11 best interior design ideas for your home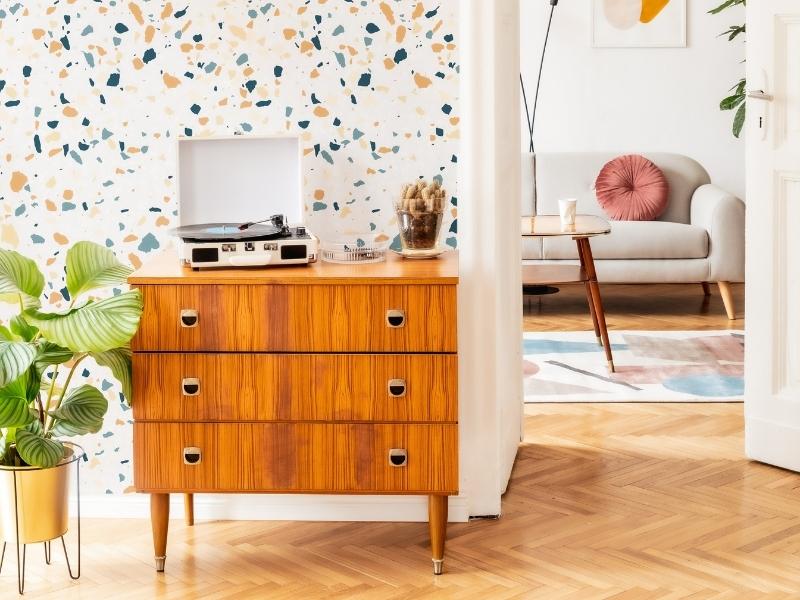 Decorating and composing the environment of a house is a process that requires a lot of care and attention. And with so many different alternatives of items that can contribute to the design of these spaces, it is often difficult to choose.
To help you in this mission, Walls By Me have gathered ten different house interior design inspirations in this post, including low-cost alternatives and options for tiny houses. To stay on top of the tips, read on!
1.
Define a decoration style
The first step to ensuring good interior decoration in your home is to define what decoration style you want to follow. By defining one among several options, you will have a more precise direction about the furniture styles, materials, colors, and decorative items that fit and can be easily inserted. Some examples of decorative types are:
Minimalist decoration;
Scandinavian decoration;
Contemporary decoration;
Rustic decoration;
Vintage decoration;
Boho chic decor;
Industrial decoration.
2.
Apply Wallpapers
Practical, versatile, and economical wallpapers are a great option to bring more life and personality to your walls and your house's interior design. In addition to being a low-cost tiny home interior design, you can find models with the most varied styles of colors and prints, with realistic options that will add texture to your walls.
In this context, peel-and-stick wallpaper models have been developed to make things more manageable and practical — these are removable options with a simple installation that you can do yourself, avoiding labor costs.
3.
Go for large rugs
Rugs are essential elements to complement the design of your home's interior. In the market, there are options in many different styles and shapes, with different colors, prints, and finishing materials to choose from.
In addition, the rugs add texture and offer greater comfort by allowing you to walk barefoot and safety for your family by covering smooth floors with their non-slip surface.
4.
Try Wall murals
Another big hit among house interior design options is wall murals. Slightly different from wallpapers, wall murals are large-scale prints that feature realistic images of landscapes, animals, forests, marbled texture effects, granite, and more. This photo-realistic piece will instantly add depth to any space and inspire relaxation and creativity anywhere you decide to install them!
5.
Match light colors
If you are looking for a small house interior design idea, a valuable tip for making a room seem bigger is to use light colors. After all, it can create a sensation of amplitude, helping to make the decoration more harmonious and cozy.
Timeless colors in this hue are excellent choices and perfect for those who value a decoration that prioritizes practicality. And when we talk about light colors, don't just stick to white. Several other shades are just as soft and neutral for you to explore — like sand, off-white, and light gray!
6.
Invest in Wall Arts
Wall art is a convenient and versatile decoration option that can easily add color and personality to your home's interior design. This low-cost house interior design option can be found in various themes, painting styles, and colors.
By adding the drawings in frames, allows you to create a wall or row of pictures on the living room wall! Transforming the area completely.
7.
Ensure coziness with textile materials
The fabrics you choose are essential to your house's interior design. Those looking for a cozy atmosphere should go for natural textiles like linen and cotton!
In addition to upholstery, look for new pillows, blankets, rugs, and curtains. In cozy boho chic decorations, you can include other elements, such as a swing, a hammock, or baskets.
8.
Add Mirrors
Another low-cost house interior design tip is to add mirrors throughout the space. After all, the luminosity of the rooms is favored with the use of mirrors in decoration. In addition, Its effects can make the area appear more prominent.
It happens because it replicates the space on their surfaces. And with the sun's rays or the light from lamps falling on, the illumination is dissipated even more throughout the space. Here, it is worth either inserting mirrors directly on the wall or choosing other furniture, such as closets with doors made of mirrors.
9.
Apply slatted panels
The slatted panels in decoration are an excellent alternative for those looking to add elegance to their environments quickly.
With a safe installation and a unique visual effect, slatted panels can also be used as a division between rooms, a composition often used in tiny house interior designs to optimize the space.
10.
Invest in functional furniture
When choosing furniture to compose your house interior design, it is vital to consider the aesthetics and the use. Thus, the idea is to improve functionality beyond decoration, especially when discussing a small house interior design.
A decorative bench can serve as a table for quick meals, a side table that acts as a stool, a wine cellar with support for items on top, and so on. There are many possibilities to make better use not only of the spaces but also the furniture itself.
11.
Use focal lighting points
Another tip for composing your house interior design is to invest in spotlights, lamps, and other elements that provide focal points of illumination. Lighting points can be used to establish a mood and to build visual sensations.
So bet on focal lighting to highlight decorative elements and complement the central lighting, establishing milder and warmer lighting, which brings warmth to the spaces.
Did you like the ideas? These were our tips to help you plan your house interior design.
We hope we have contributed to making your home the way you want it to be. So enjoy and share the tips with your friends and family!
In addition, you can complement today's reading by checking our post that explains everything about pell-and-stick wallpaper!