Powder room creative ideas: do it yourself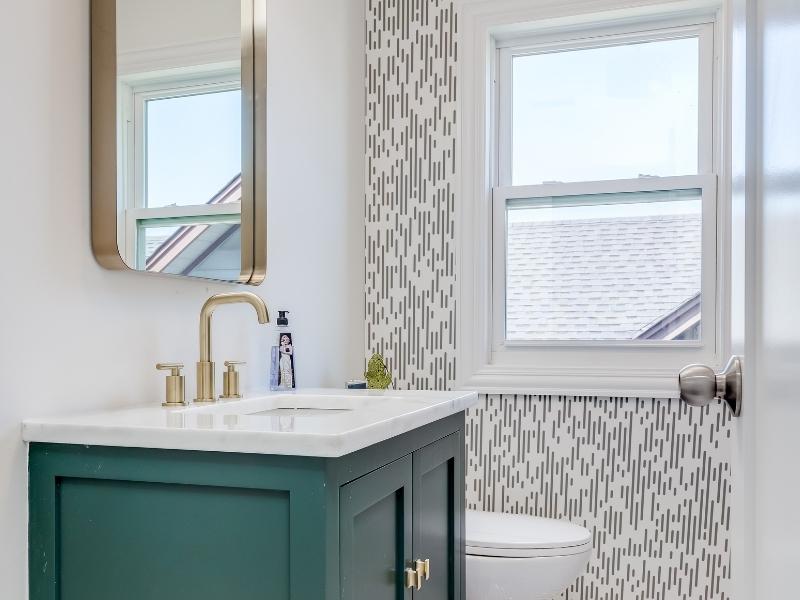 A modern, authentic, and original decoration: those are the powder room decorations! Although a powder room is not the most popular or most appreciated space in the house, it is an area capable of taking significant design risks, following leading decorators. This is the perfect environment to dare with decorations and experiment with solid colors, as well as more sophisticated accessories, mirrors, and lighting. This is the time to unleash your creativity and decorate without fear of being happy!
Want to know other tips on how to do a powder room decoration? The Walls By Me blog has prepared a complete guide that will help you get into the trend and know the best colors for the bathroom, so let's get started
What do you put in a powder room?
To determine what to add to your powder room, you first need to decide which style it will receive. For example, do you want your powder room to be with a totally different decoration from the house to stand out, or do you want it to blend in with the rest of the decor?
With that decided, it is time to choose the pieces that will be part of the room: sinks, wallpapers, mirrors, tiles, decorative ornaments, and utensils. The important thing is to prioritize the cozy and functional decoration that is so necessary for this trend.
15 tips for decorating a powder room
In powder rooms, it is an alternative to mix colors, play with patterns, and create an inviting and intimate atmosphere. In other words, washrooms are the most exciting areas to bet on stunning decor.
By the way, one of the most practical solutions to bet on the style is to decorate the walls with different types of wallpaper, so they make their presence felt in many of our tips. This small space is like a blank canvas, just waiting to receive colors, patterns, and details that will make them overwhelming. So, learn about 15 powder room ideas, and get inspired to create your renovation; let's get started.
1-
Dramatic Walls
Playing with shapes, lines, and colors represents dust decorations very well. With this trick, it is possible to invest in a dramatic feeling, mixing strokes, shades, vintage chandeliers, and differentiated mirrors.
2-
Vintage Accessories
Vintage is back with everything in this trend! In this one, in ornaments that are re-readings of times past, framed mirrors with the older style, or retro wallpapers: everything works great with them!
3-
Wreath of Light
The details make all the difference, so bet on cozy lighting with garlands of light hanging from the ceiling or on some prominent surface of the bathroom, such as around the mirrors.
4-
Black and white patterns
Black and white wallpapers form a bold design, following an abstract style for the room. To complement them, bet on oval mirrors over the sinks and plants in prominent places to create a contrast.
5-
Blue Wallpapers
Colorfulness is very present in powder room decorations, as are vibrant hues. One tip is to use blue wallpapers in prominent restroom areas, creating a lighter, nautical-style atmosphere.
6-
Leafy Wallpapers
How about bringing natural elements into your decor? Wallpapers are the solution! They provide a relaxing and feel-good effect. To go with them, invest in pieces in intense and closed colors, such as black sinks, wooden furniture, and even deep green ornaments.
7-
Wood details
Following the relaxing style of the previous tip, wooden furniture also makes its presence felt in powder rooms. They help bring out the inviting feeling that is so necessary for washrooms, as well as help, make the space look more sophisticated.
8-
Highlight your favorite color
This is the time to enhance your favorite hue by adding color to the highlight wall of the room. Don't be afraid to insert vibrant shades; they create a fantastic energizing effect!
9-
Mix the old and the new
Despite being a trend of updating and innovation, mixing the old style with the new can be a perfect solution to create that effect of originality.
Bet on vintage wallpapers with more current mirrors, classic furniture, and modern decorations: play with the styles, and don't be afraid of this excellent mixture!
10-
Floral Wallpapers
The vintage style is perfectly represented by floral wallpapers. These patterns, besides being sophisticated, also offer a softer and more balanced atmosphere. Combine them with more neutral furniture and decorations to not weigh the aesthetics.
11-
Chandeliers
Chandeliers make washrooms more sophisticated, with the classic style apparent in the aesthetics. Therefore, if your room has a high ceiling height or an available space, betting on a chandelier as a highlight can be an alternative.
12-
Beige walls
Neutral walls are light, modern, and elegant. So don't be afraid to add them to your washroom. The best thing is that this neutral shade allows a more excellent mixture of colors, allowing you to dare in decorations and furniture.
13- Float your sink
Having a floating sink ensures a freer, more modern look with a sense of spaciousness. In addition, investing in this solution means gaining more storage space underneath, making everything more organized.
14-
Open shelves
Organize your washroom with a floating shelf, whether it is made of rustic wood or another available material. This tip can be used to decorate and create a cleaner, uncluttered, and stylish atmosphere.
15-
Gallery Wall
This is one of the most original tips on the list. The idea is to set up a gallery wall, combining memorable photos, cool pictures, plaques, records of your favorite singer, and other objects that tell a little bit about you. The result is fantastic!
How can I get the most out of my powder room?
To get the most out of your powder room, you can add organizing shelves, built-in cabinets, floating sinks, and even organizing racks. Wallpapers are great solutions to transform the space with practicality.
Did you like our tips? Remember that to create a powder bathroom ideas, and it is essential to prioritize authenticity, play with colors, and your style. Check out other decoration topics here on the Walls By Me blog. See also the step-by-step how to put wallpaper in the bathroom and ensure an even more enhanced effect!