Magical Motorhomes: How To Decorate An RV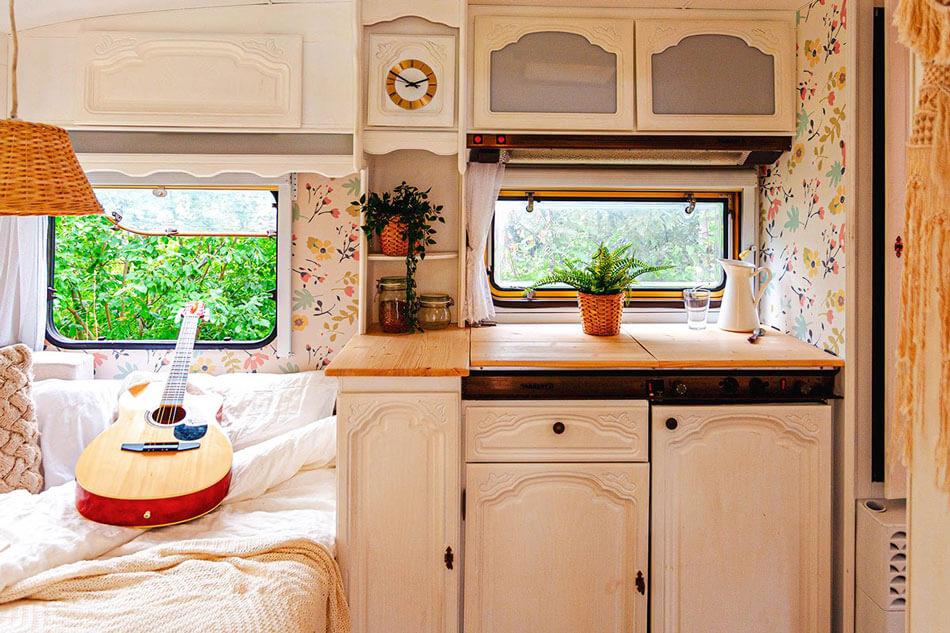 Decorating a compact home is tricky enough. What happens when you intend to drive the same home on the open road? Motorhome decor can present rather complex challenges, especially for those with a discerning eye. With so many bells and whistles that you can't get rid of, a largely standard layout, and barely any room to work with, you're always just one wrong move away from a tacky or depressing RV interior.
On the plus side, RVs also come with some natural advantages of their own. You can leverage these to create some truly stunning spaces that make you feel at home no matter where you go. Today, we've rounded up some simple RV decorating ideas and guidelines to help you craft a magazine-worthy motorhome.
How to decorate an RV in 5 easy steps
1. Think Of It As A Home First, Motorhome Second
Before you worry about the nitty-gritties of styling a home on wheels, remind yourself that it's first and foremost a living space. Ideally, your RV should tempt you to spend time in it even when it's parked in your driveway. Bring in your favorite stuff — cushions, throws, lamps, planters. As long as it doesn't compromise your motorhome's functionality, it's all welcome! This approach will leave you free to explore RV decorating ideas that resonate with your tastes and preferences.
2. Stick To Light Tones
Since you're already working with some serious space constraints, avoid dark colors or overly busy patterns in your motorhome interior. When talking about how to decorate an RV, most design experts recommend all-white or light, neutral palettes. White or light-colored wallpaper, furnishings and accents will maximize the natural light entering your RV, and help you make the most of the space.
Will an all-white scheme turn your motorhome boring? Far from it. A foundation in white will actually allow you to explore pretty geometric patterns, lighthearted floral designs, and rich weaves, wood treatments or rattan accents to add texture and depth.
Buy Yellow Lattice Peel and Stick Removable Wallpaper 7308
3. Add Homey Touches
Even if you put a lot of thought into your RV's wall treatments and furnishings, it is still a vehicle. The cold metal fixtures, vents, and standardized fittings will stand out. Counter them with some warming touches that instantly add a sense of home. The kitchen and bathroom area in particular could do with some added coziness. Vintage kitchen fittings and classic wood or faux wood treatments work well in RV interiors.
If that country kitchen look is proving hard to create, simply segregating the kitchen area from the rest of the space can make a big difference. Installing a backsplash for your kitchen sink will help you keep things clean and create a visual separation from the rest of the living space. You can dress up the backsplash itself in cheerful peel and stick wallpaper.
4. Make The Most Of The Windows
If you're wondering how to decorate an RV without the space to put up wall hangings or artwork, don't fret. Your motorhome has a major advantage over your regular home in the form of its many windows. Think of these as inbuilt works of art offering you framed views of the beautiful landscapes you visit. Use sheer curtains to allow natural light to flood your motorhome. Turn well-lit corners into cozy zones for reading or relaxation. Use wallpaper featuring seamless, small-scale patterns to maintain a sense of continuity between windows.
5. Plant Some Joy
Any time you're stuck with the question of how to decorate an RV without spending a fortune, you can rely on nature to solve the problem. Plants are great at filling decor gaps, and can work the same magic in your motorhome as well.
Brighten up dull corners with potted plants and floral arrangements. Bowls of fruit and fresh flowers can add some much-needed color and vibrancy to your RV without encroaching upon its limited space. You can also introduce small-scale botanical wallpaper to create a nature-inspired theme. These natural elements also gel well with wood or faux wood finishes that may feature in your RV kitchen.
We hope these RV decorating ideas have got you planning a motorhome makeover of your own. Get set for your next outdoor adventure by implementing some of these right away. Our peel and stick wallpaper selection is a great place to get started. Find gorgeous PVC-free wall treatments for your RV, and order a sample to make the perfect choice.