Simple Summer Refreshers: Decor Ideas For The Warm Weather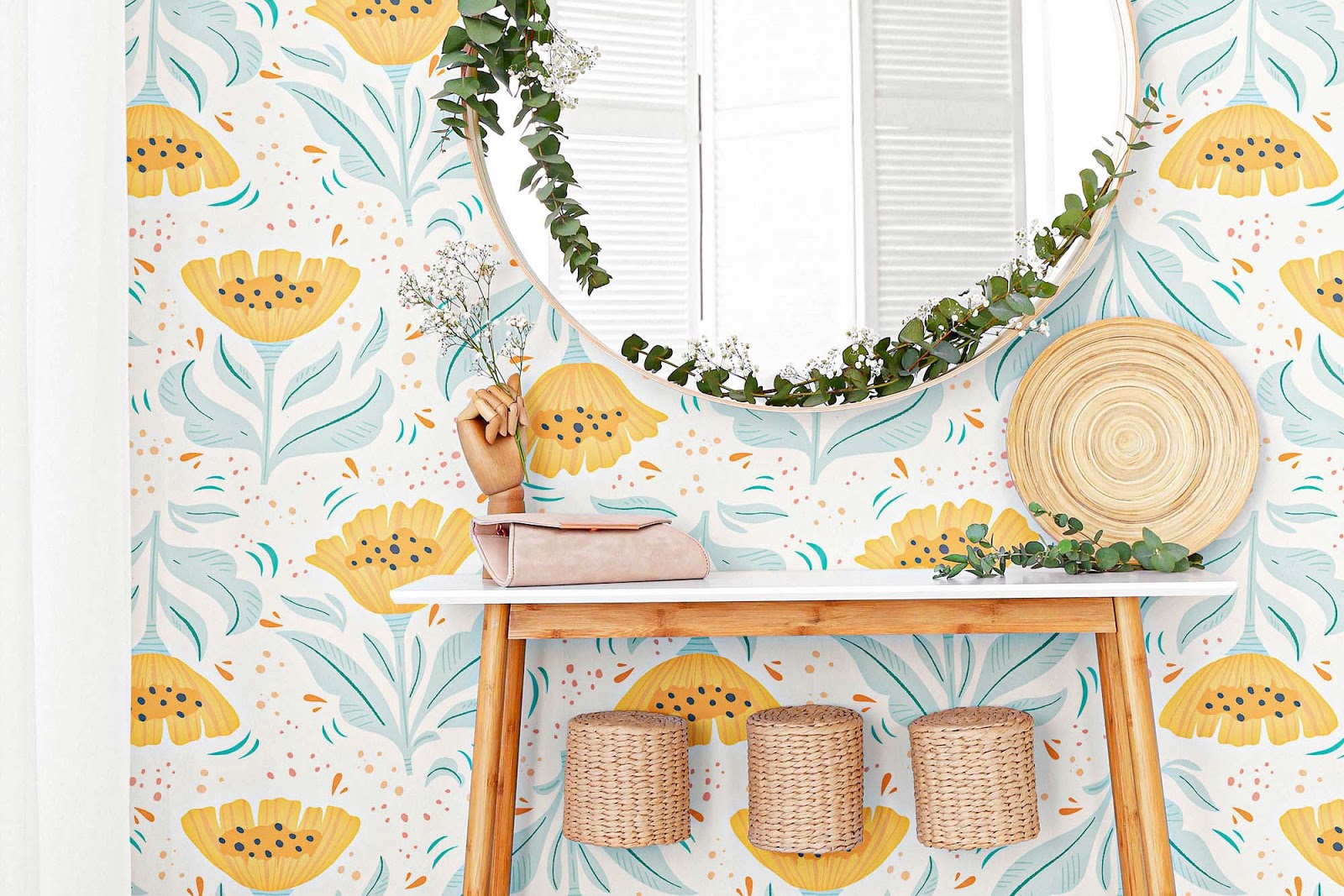 What do you do when summer is just around the corner, but time for a holiday is still far, far away? Decorate for a staycation, of course! You don't need a sprawling house on the beach to bask in summery bliss. Your humble city apartment can easily reinvent itself to welcome the warmer months. Here are some of our favorite decorating ideas for summer houses that you can set up in your apartment with the help of these cleverly chosen decor elements.
6 quick decorating ideas for urban summer houses
Buy Black and White Flowers Peel and Stick Removable Wallpaper
Delightful whites
A white color palette may seem counterintuitive when you're exploring summer decor ideas. However, all-white decor can work remarkably well to establish a summery theme. White is a great way to make a room feel spacious, well-lit and breezy. To get a feel for the season, you could add pattern and texture to your white palette through black-and-white floral wallpaper, soft rugs, faux shiplap or a whitewashed brick statement wall.
Buy Blue Moon Peel and Stick Removable Wallpaper
Blameless blues
Calming, refreshing shades of blue are another summer classic. Adding a blue complement to your all-white setting is another way to evoke summery calm and a seaside feel. You could try painting a piece of furniture or a storage unit blue. Or, for an easier approach, you can use peel and stick wallpaper featuring vibrant blue and white patterns. You could bring home anything ranging from upbeat stripes and plaids to elaborate Moroccan tiles through our range of PVC-free peel and stick wallpapers.
Buy Pink Candy Peel and Stick Removable Wallpaper
Pastel prettiness
Exploring colorful decorating ideas for your summer house? Try a whimsical pastel look via mint and light pink or peach. You can do this by swapping your upholstery and accents for light summery prints. You can also use botanical wallpaper crafted using pale blues, greens and pinks. We offer a variety of artistic floral designs in vintage Asian styles and cool contemporary colors.
Buy Yellow Vintage Tile Adhesive Peel and Stick Removable Wallpaper
A citrus twist
Vibrant and refreshing citrus elements are perfect for welcoming the warm weather. There are many ways to introduce a citrus flair to your living space. You can introduce peel and stick wallpapers featuring fruits and botanical graphics to your kitchen or dining space. Alternatively, you can create the same energy by simply using citrusy hues in your decor. Colors like bright orange, yellow and green can pep up your living space for the summer through geometric or abstract prints.
Buy White and Blue Bird Nautical Peel and Stick Removable Wallpaper
A nautical vibe:
Summer is the perfect time to create a nautical themed home. Nautical decorating ideas for summer houses can be wide-ranging, and we encourage you to explore them all! A statement wall full of maritime symbols and illustrations can take the edge off your formal living room. If textbook elegance is more your thing, we have many subtle designs that explore timeless geometric patterns and whimsical abstract compositions through maritime or oceanic elements.
Buy Pink Birds Peel and Stick Removable Wallpaper
Ever-trendy tropicals
Leafy green elements are always welcome in our homes, especially in summer. They strike the perfect balance between celebratory warmth and relaxing calm. If you've been waiting to create your first urban jungle in your apartment, now would be the best time to don those gardening gloves. If you're hesitant about committing to actual houseplants, lush botanical wall coverings and furnishings are excellent summer decor ideas.
Which of these summer decor ideas will you be trying out? Or are you coming up with your own decorating ideas for your summer house? We'd love to help you find beautiful and refreshing peel and stick wallpapers for your project. Check out our latest designs!