Not Just Eye Candy: Wallpaper Features That Make Us A Sensible Choice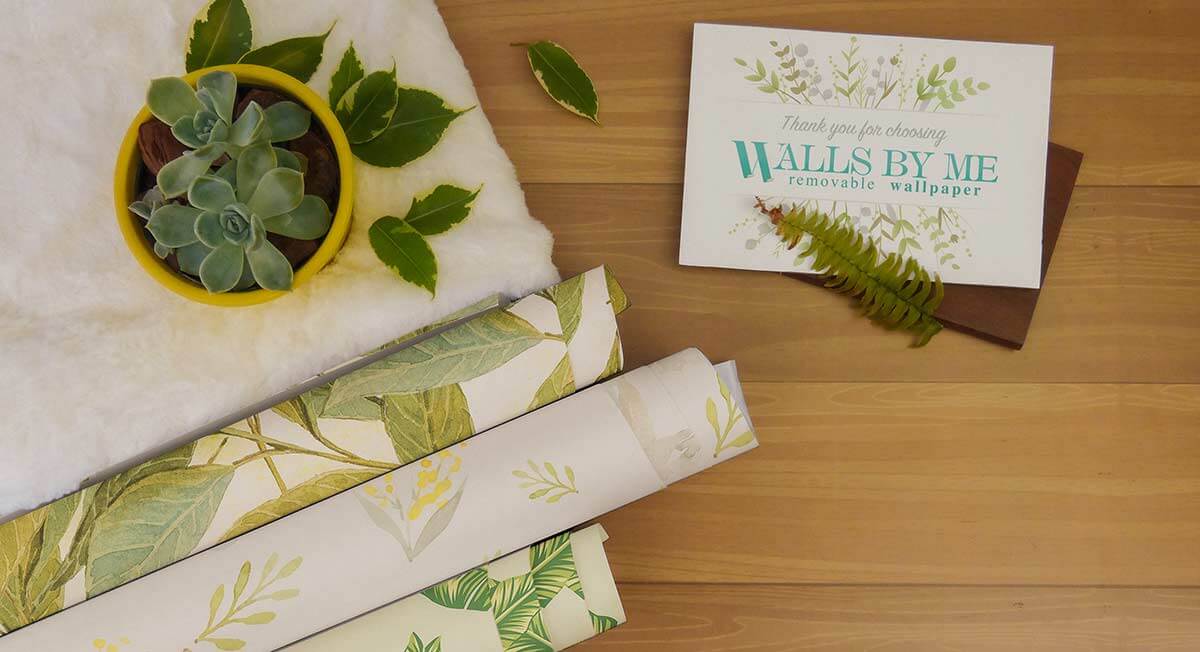 Let's face it – conventional wall treatments have done their time. The recent push towards smarter, greener and more robust choices has shaken things up in every industry, and home decor is no exception. While coming up with our removable wallpaper collection, we knew we had to focus on delivering the complete package – looks, practicality, and safety. And we don't mean to toot our own horn, but we've managed to do it in style! Every peel and stick wallpaper here at WallsByMe comes with a bunch of super-cool features that place your needs first.
Effortless DIY installation
Our self-adhesive wallpapers have a straightforward peel and stick design that you won't have to spend hours figuring out. Just peel off the backing bit and bit as you apply the wallpaper to your wall. If you make a mistake or end up with a wrinkle or bubble, peel off that section and re-apply! We've used only high-quality adhesives that will not damage your wall or paint when removed.
Endless repositioning
With WallsByMe, you'll always have the freedom to course-correct and experiment to your heart's content. Our removable wallpapers are practical and easygoing. Unlike vinyl wallpapers that tend to leave a nasty residue when you take them off, our products are extremely gentle on your walls. Whether you need to reposition them during installation or remove them years later, they'll come off leaving your walls and paint looking good as new.
Quality you can count on
When you've spent precious time and resources on putting together the perfect furniture, lighting and accents, you don't want to destroy the whole look with cheap vinyl wallpaper as your backdrop. WallsByMe wallpapers are made of  high-quality peel and stick wallpaper , ensuring that you get the rich look and texture your living space deserves. Moreover, our removable wallpapers are thicker than their vinyl cousins, and won't shrink or curl. But that's not all! With fabric construction comes the added advantage of breathability. Unlike vinyl wallpapers that clog your walls' pores, so to speak, our peel and stick wallpapers allow air movement to happen. This is a big reason why our products don't damage the walls or paint when removed. There's minimal risk of mold formation or moisture-related damage, even in rooms that don't get much sunlight.
No harmful chemicals
Our fabric wallpapers don't just ensure a great finish. They're also free from toxic inks that you typically find in vinyl wallpapers. So in addition to a great looking PVC-free wallpaper, you get the assurance that it'll be printed with water-based inks that produce no fumes or odors. Our products carry a GreenGuard seal, certifying that they keep indoor environments safe and free from airborne chemicals. Choose our gorgeous removable wallpapers to live in fresh, fashionable homes that are PVC-free, lead-free and VOC-free.
Photo by:
@fourbeanstalks
And lots of practical details!
Every peel and stick wallpaper here at WallsByMe is thoughtfully designed to maximize your convenience. For instance, our products are 95% block-out, meaning they can easily cover minor imperfections in your wall (or even an existing wallpaper). They also have a class 1 fire rating, which means that they can slow down flames in the event of a fire. Another reason why we're a safe choice for you and your loved ones.
Whether you're time-strapped and trend-savvy, or just like to settle down with a classic design that stands the test of time, we've got your walls covered! Browse our newly updated removable wallpaper collection and rest assured that you're making the right choice.