12 Best Rustic Home Decor Ideas and Designs to Make Your Room Cozy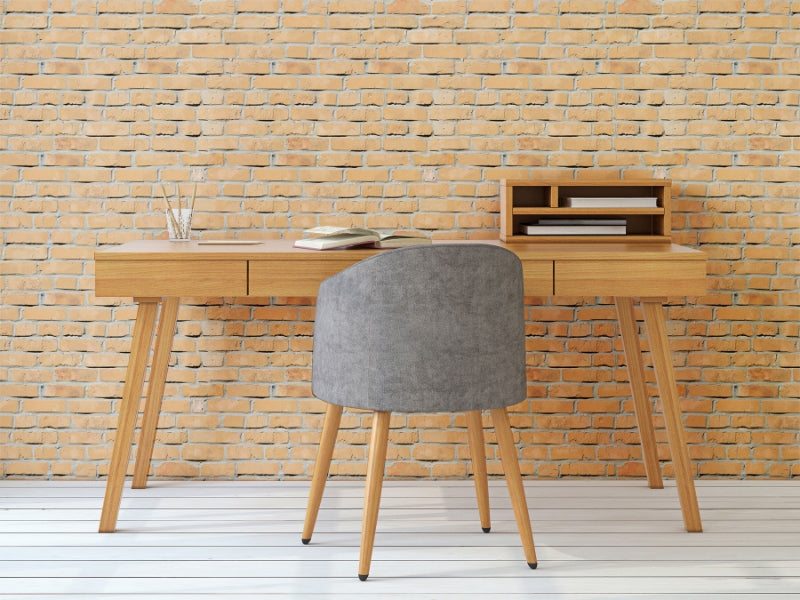 Rustic home decor is timeless, and despite the traditional touch and its woody elements, it is a style renewed every season, featuring modern details each year. This decoration style not only suits the countryside, but is also a unique way to decorate contemporary rooms.
Check this guide with 12 rustic designs and decoration ideas to transform your home, making it more welcoming and sophisticated! You will see how simple details can make your room cozier and more elegant!
1. Wood Elements
Wood elements, whether furniture, walls, tables, or finishes, are essential in rustic decoration. After all, the material reminds us of farmhouses and old constructions, bringing a touch of nature and elegance to the room.
For a complete home transformation, you can invest in a floor-to-ceiling wooden wall or a large piece of furniture in prominent places, such as the living room or the kitchen. But for a rustic minimalistic touch, the tip is to invest in small objects with wooden frames.
2. Antique Furniture
Antique furniture is perfect for authentic rustic decoration. You can restore real ancient furniture or invest in a new piece that simulates antiquity.
More robust pieces, such as chests and cabinets, are great to be restored. They may compose the decoration of various rooms. Beyond the bedroom and living room, you can allocate them in the entrance hall or even in the leisure area!
You can use the patina technique to restore the pieces yourself, preserving the antiquity and history of the furniture but adding a personalized and modern touch to the decoration.
3. Brick Wall
Just like wood elements, brick walls are synonyms for simplicity and comfort.
You can choose one of the walls in your bedroom or a division in your living room and transform it! With modern techniques, you don't have to break the wall and make it with literal bricks! With wallpapers, you can achieve the same rustic effect easily and quickly.
4. Pallet stacking
Using pallets is an affordable option to make your room more rustic and countryside alike.
You can use the objects to make bookshelves, structure for couches and beds, or stack and place them in a strategic corner of the living room or bedroom.
5. White and Brown
Are you considering a rustic space in your home? You have to go with a classic rustic combination: white and brown. The tones are neutral and easy to combine. Use your creativity when decorating with these colors: brown wooden furniture stands out against white walls.
The opposite also works: white pieces look charming against wooden walls! A room full of light tones and details in brown is minimalist and sophisticated. At the same time, objects in classic woody tones provide a traditional and authentic decoration!
6. Natural light
Rooms with rustic decoration usually highlight natural light through oversized windows and higher ceilings.
The sunlight brings warmth to your home, and makes the areas feel even more prominent. It is also a great way to save energy during the day!
7. Earthy Tones
Earthy tones make your rustic home decor more welcoming and stylish. It's a creative way to bring nature and simplicity to your house!
Warm tones, such as terracotta, dark orange, and beige, make your home cozier. The cool shades, such as green, gray, and blue, bring a contemporary touch to your rustic decor.
8. White Kitchen
You don't need a wood oven or antique furniture for a rustic kitchen.
It's simpler than it looks: an all-white kitchen — with walls and furniture in light tones — provides elegance and a sophisticated decoration to the room. Invest in wooden elements painted in white to give it a cottage touch!
9. Layers of textures
An easy and practical way to give your decor a more rustic vibe is through layers of texture. For example, combining wood finishes with plain white walls balances the decoration.
Besides woody pieces, other textures that go with rustic decoration are bricks, classic rust, and even charcoal. It is possible to combine traditional elements with modern inspirations in a lovely and original decor.
10. Floral and Animal Patterns
The rustic decoration is often associated with a pastoral and calm lifestyle closely linked to nature. Therefore, one simple and easy way to bring natural elements into the home is through animal and floral prints.
They are perfect and delicate for those who are into a romantic decoration style or to make the children's bedroom cozier and colorful.
In addition to the prints, the hanging pots and other floral objects improve the rustic decoration, giving it a lovely and contemporary look.
11. Shiplap walls
The shiplap walls bring innovation to the whole room. The interlocked panels give your home a natural and antique look. Perfect for traditional countryside houses, but also practical to improve the decoration of modern and compact spaces.
For example, if you live in an apartment, you can choose one of the walls of your bedroom or living room and decorate it with a shiplap wall.
You can use literal interlocked panels or wallpapers, which are easy to install and can transform the whole room.
12. Chalkboard
Using a chalkboard — with a wooden frame — is a creative and modern way to enhance rustic home decor. You can hang them on the wall and change the quote daily.
This is an excellent idea for the kitchen, so you can write your tasks and course list. Besides the decoration, it is a super helpful piece to make the routine easier.
You can transform a plain room into a sophisticated and rustic space with creative ideas and simple pieces. And if you're into a retro design style, check out our ideas for a 70's home deco.