10 bathroom color ideias you need to know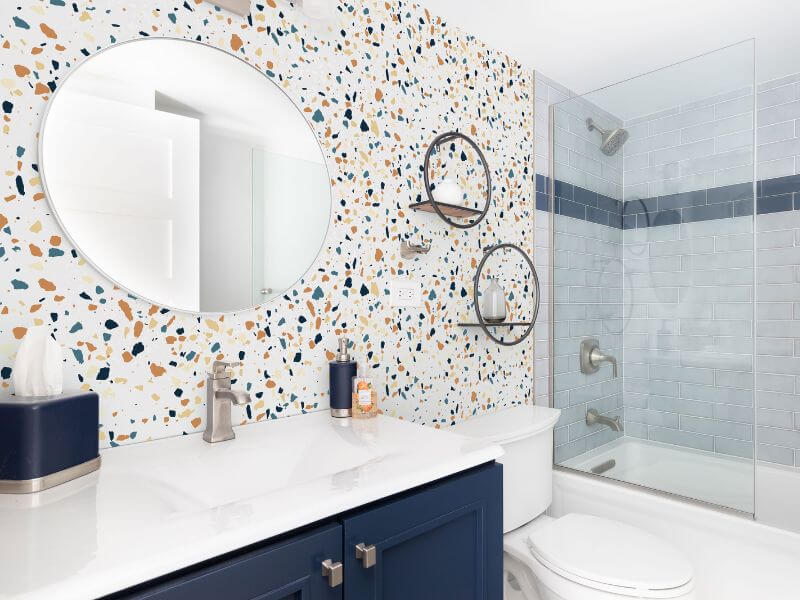 Most of us don't spend a lot of time decorating our bathrooms, let alone mulling over bathroom color ideas. However, it's the "neglected" areas like bathrooms and utility spaces that fill the gaps in your home decor and cement the visual impact of your living space. The good news is that bathrooms are not as limiting as you may think. There are some gorgeous bathroom color trends you can explore to help this humble space make a stylish and fashionable statement!
Before we start looking at color schemes and ideas for your bathroom, let's finetune the selection process a bit. Like every other room in your home, the ideal aesthetic for your bathroom will depend on the purpose, ambiance or theme you have in mind for it. For example, do you keep a busy schedule where quick showers are the norm, or do you regularly indulge in relaxing baths? Understanding your needs will help you zero in on the best color palettes for your bathroom.
Have fun with these unique bathroom color ideas
1. Turquoise
An instant hit in most bathrooms, turquoise color palettes carry rich oceanic vibes. Refreshing and relaxing at the same time, this vibrant color is the perfect blend of blue and green. Bring it into your bathroom through cheerful nautical wallpaper featuring marine illustrations or maritime symbols. You can also consider bathroom color ideas that introduce turquoise via faux stone prints.
2. Black and White
When you're investing time and effort in crafting a bold home interior, why leave your bathroom to languish in those cookie cutter white tiles? A dramatic black and white color palette will add gravitas to any standard bathroom—even if it doesn't offer much square footage. Clean geometric patterns or stripes can be a great way to dress up your bathroom walls. If you're feeling more adventurous, you can also go for large-scale floral compositions in intense charcoal tones.
3. Soft Grays
There isn't a room in the house that can't benefit from a gray color palette. Once you opt for gray as your color of choice, the options that open up range from soft, barely-there hues to deep, charismatic tones that border on charcoal. You can also choose between cool metallic grays and warmer tints that work beautifully with natural finishes. Introduce these color palettes into your bathroom through elegant damask or floral patterns. Gray chevrons or animal prints also feature among top bathroom color trends.
4. Gold
Yes! You read that right. You may tend to think that golden elements require spacious, formal settings like living rooms, but the fact is that they can be made to work remarkably well in modern urban bathrooms. Recent bathroom color trends have included the "gilded" palette in their ranks. This look can be created by adding golden mirror frames, shelving and sconces over off-white wall finishes. Or you can make it even simpler—go for an Art Deco inspired wallpaper, with a sunburst or other iconic pattern in golden-yellow tones.
5. Pale Blue
The all time classic of bathroom decor, pale blue is that go-to color that you can count on to fix the ambiance of your bathroom. It can be particularly handy when you're looking for small bathroom color ideas. Serene yet refreshing, pale blue adds a welcoming vibe and can be paired with different colors for different results. We love the time-tested combination of blue and white, a bathroom color palette that never goes out of style.
6. The Purple Family
Whether you wish to give your bathroom a spring flavor, or need bathroom color ideas that are relaxed and playful, there's plenty that can be achieved through purple peel and stick wallpapers. From elegant floral prints rendered in lavender or lilac hues, to quirky geometric patterns in dark berry tones, there's quite a wide range of options here. Pair these hues with black, white or gilded accents for a regal touch.
7. Greens
Speaking of springtime makeovers, next up on our list of bathroom color scheme ideas is the delightful world of greens. Light pastel greens will lace your white ceramic fixtures with just a hint of natural loveliness. Deeper tones like pistachio will add a moody allure. You can also explore our botanical peel and stick wallpapers that'll bring a tropical, outdoorsy flair to your bathroom. Or try some of our nautical explorations that border on aquamarine hues.
8. Elegant Neutrals
Beige and cream tones fall squarely in the category of bathroom color ideas that will not let you down. These all-purpose neutral tones have a soft, subtle warmth and the ability to work with any design style. Implement them through classic floral prints, or textured peel and stick wallpaper that emulates marble or sandstone walls. Add a few wooden fixtures and woven accents, and you'll have a richly textured bathroom in no time.
9. Browns
If you enjoy working with neutral colors, take a moment to consider the darker end of the spectrum. Chocolate brown hues have taken a front seat among recent bathroom trends, thanks to their mix of versatility and pizazz. A deep brown bathroom wall adds just the right amount of drama and warmth. You have many options here, from faux wood textured removable wallpaper, to rich prints emulating brown tiles.
10. Gray and Brown
Adding both gravitas and softness to the space, brown and gray color palettes work remarkably well in bathrooms. Gray and brown bathroom color ideas are quite varied and can evoke anything from autumnal charm to industrial richness. Though you can take the textured wallpaper route here, we recommend elegant floral wallpapers with large-scale prints articulated in brown and gray tones.
Which of these bathroom color ideas will you be trying out first? To get the best results from our removable wallpapers, order samples of the designs you like from Walls By Me.