How To Use Spring Decor Elements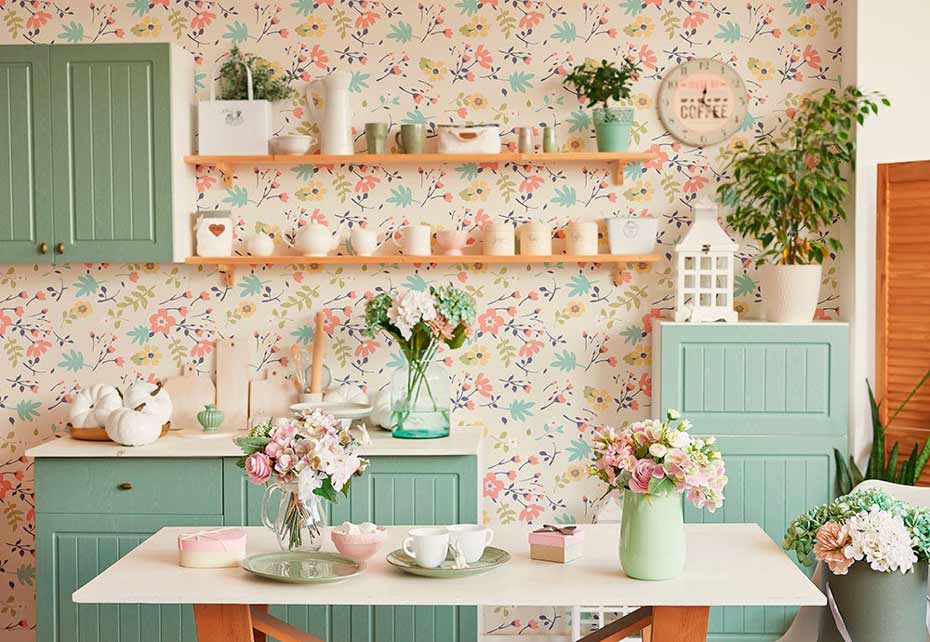 Come spring, there's a natural urge within us to turn over a new leaf. Getting rid of old stuff, giving the house a good cleaning, and channeling the floral freshness of the outdoors into our living space. Spring decor is not just about staying in vogue; it's about bidding adieu to the inertia of winter and welcoming the promise of new beginnings.
Given how much fun it can be to refresh your home this time of the year, we thought of putting together a list of spring decor ideas that make it easy to invoke natural freshness and tap into the latest trends at the same time!
Super Simple Spring Decor Ideas for Instant Freshness
White and Bright:
When you're starting from a clean slate, it's natural to get intimidated by all the ideas and advice out there. Keep it simple—build a foundation in white or near-white finishes. An all-white setting is a perfect canvas on which to flaunt pretty floral arrangements, lush houseplants, and charming spring-themed cushions or throws. White-based spring decor works great for living rooms, creating a sense of space and allowing multiple colors, textures and accents to enrich the most 'visible' room of your house.
Fluid Florals:
Most spring decor ideas you'll find online will involve floral prints and patterns. An easy way to ensure that you don't go overboard with blossoms is to try subtle, organic prints that blend in with white or light-toned surroundings. Seamless, artsy floral wallpapers in light pastel colors are always a reliable option. You'll find plenty of these in our newly updated selection. From classic European flair to whimsical chinoiseries from the Far East, our designs are inspired by well-loved styles.
Sunny Sophistication:
With winters skies clearing up and making way for sunshine, this is a great time to try some happy yellow elements in your decor. A yellow painted wall in your foyer could be a great way to set the mood. Another option is to swap out your old cushions and throws for charming yellow prints. You could even consider yellow-based floral or fruit patterns as your dining or living room wallpaper to get a lovely springtime feel. Fun fact: yellow (more specifically "illuminating" yellow) is one of the colors Pantone has picked as the highlight of 2021!
Geometric Jigs:
Not all spring decor ideas have to involve floral prints. If you are naturally drawn to clean geometric patterns, there are many ways to use them for an instant refresh. Look for stripes, plaids or chevrons involving more than one color, or experiment with whimsical designs that turn classic patterns playful. Our quirky yet versatile geometric prints will fit perfectly into your living room spring decor. For best results, stick to fresh, upbeat hues that work with white or light pastel elements.
Rattan Richness:
Whether you dream of living a quaint country cottage, or just love the play of natural weaves and greenery, finishes like wicker or rattan will serve you well. This could be as simple and minimal as placing your spring blossoms or plants in rattan vases or baskets. Or you can take things a step further by investing in rattan accent chairs or stools. This richly textured look can be further enhanced with the use of textured peel and stick wallpaper that gives an entire wall a chic woven effect.
Welcome Some Wildlife:
Spring and nature go hand in hand, so why stop at flowers or greenery alone? Give yourself the freedom to bring home animal prints, and gorgeous forest scenes involving birds and butterflies. You'll find our animal-themed collection of removable wallpaper to be surprisingly versatile and elegant, with soft hues, artistic effects, and a rich matte finish that gels with the most sophisticated of furniture and accents.
Ready to spring for some of these spring decor ideas? Our vast range of PVC-free peel and stick wallpaper options make it effortlessly easy. Take a look at our classic and newly added designs, and get yourself a sample from Walls By Me right away!