Including Kids In Decor Decisions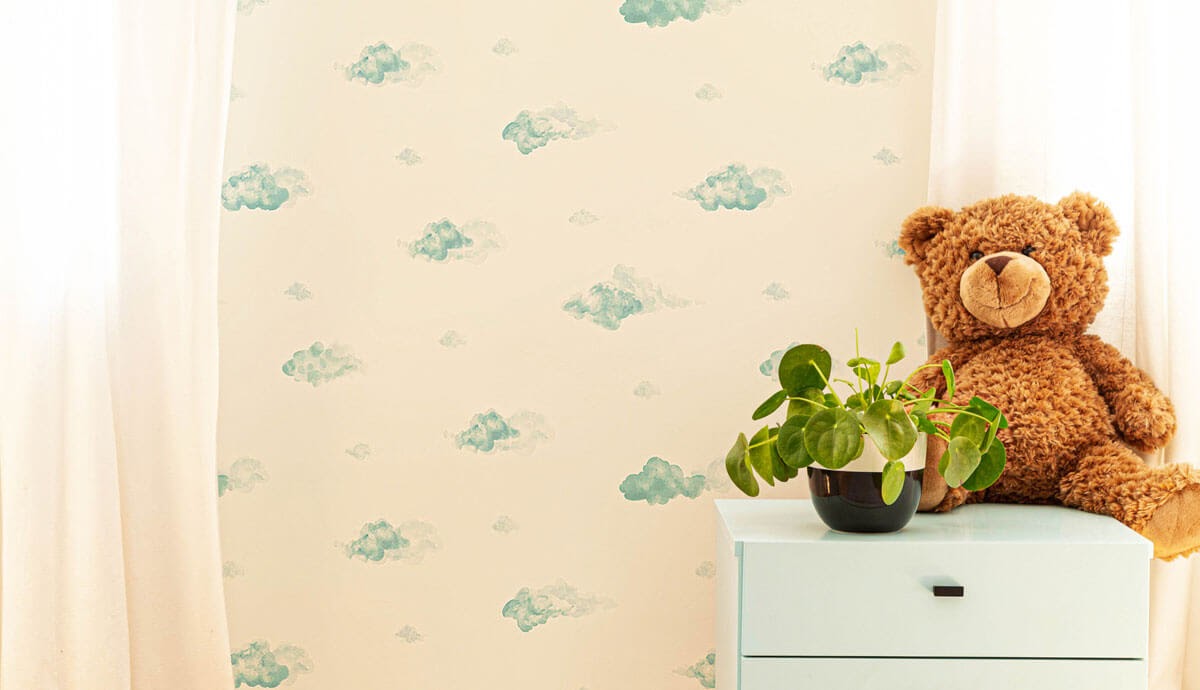 Aqua Blue Clouds Baby Peel and Stick Removable Wallpaper
The thought of your kids decorating your living space may bring to mind images of mismatched objects and childish prints. However, that 'pre-school look' isn't all that there is to kid-friendly home decor. Including your kids in your decor decisions can actually lead to layered, subtle, and stylish spaces. It can also lead to a whole lot of fun as you plan and decorate together with your tiny tots.
Children and their fresh, unrestrained imagination can bring much-needed dynamism to dull settings. What's more, the end result doesn't always have to be an overpowering mix of primary colors and animated graphics. Check out these surprisingly sophisticated approaches to crafting inviting, wholesome spaces where the whole family feels at home.
When kids decorate: 5 surprisingly stylish ways to craft a kid-friendly home
White Shiplap Textured Peel and Stick Removable Wallpaper
 1. A blank slate for your cherub's imagination
Before rushing to pick up brightly colored odds and ends for your kid's room, consider the fact that young minds like to have some room to play with. Not just in terms of physical space, but also when it comes to the colors and textures around them. Simple white wall treatments and an uncluttered layout will give them a blank slate on which to start their creative explorations. Keep the overall color palette rooted in white or neutral hues. Add a pop of color here and there through storage baskets or toys, and introduce basic shapes and simple geometry through wall treatments and furnishings.
White and Pink Floral Peel and Stick Removable Wallpaper
Shelving, reborn
What if you live in a compact apartment where every room has to serve multiple functions? Peel and stick wallpaper is a great way to personalize such spaces for every member of the family. For your little ones, you can create cozy nooks and play areas by giving an old bookshelf or cabinet a vibrant makeover. Use leftover wallpaper from an old project as shelf backing or to give drawers or cabinet shutters a fun new look. Our quirky animal prints, versatile florals and fun geometrics will have your kids decorating their favorite corners all year round!
Blue Turtle Peel and Stick Removable Wall Mural
Storybook walls
Another key to kid-friendly home decor lies in shared areas like bathrooms. Kids decorating using peel and stick wallpaper flaunting scenes can give such spaces a dreamy makeover. Such wall treatments will inspire fun story-telling sessions of faraway lands or characters from your cherub's favorite film during bath times. Get these lively designs in simple black and white or soft pastel palettes, and you can enjoy a quirky yet composed vibe in your bathroom.
Black Animals Children Peel and Stick Removable Wallpaper
Tasteful themes
We're never too young for creative expression. As your little ones grow older, they will want to personalize their home to their liking – not just their bedroom or play area. Instead of trying to strike a compromise, you can actually join your kids decorating your home in a way that suits everyone. Our tasteful peel and stick wallpapers will help you add a charming, elegant feel to a nautical or animal themed setting. Using subtle colors and artistic rendering styles, these dynamic yet understated designs are popular among kids and grown-ups alike.
Welcoming young artists
A gallery wall is a beautiful way to include your kids in your decor decisions. From the moment they learn to put crayon to paper, tiny tots start churning out artwork like a creative factory. Dedicate a portion of the living room or kitchen wall for displaying their creations. You can start things out on a stylish note by arranging some cheerful peel and stick wall art on a colorful or geometric patterned wall. Club these with the latest range of artworks that your little angel has produced. Rest assured, your kids will be decorating the space in a different style every season!
What are your favorite ways to get your kids decorating your living space? Find a way to bring all your ideas to life with our newly updated range of peel and stick wallpaper. Start your journey to kid-friendly home decor right away!