What Are The Types Of Wallpaper? All you need to know!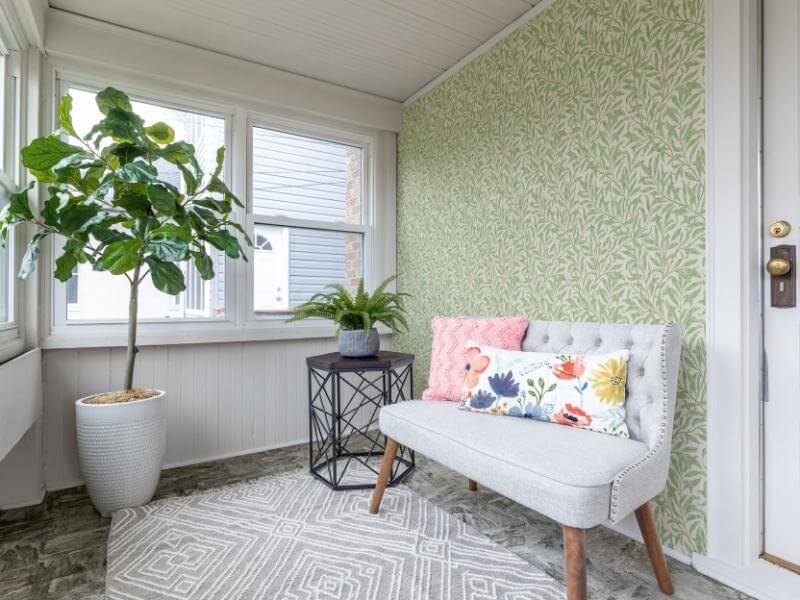 Types of wallpaper: the ultimate guide to choosing a look for your walls
From intricate tapestries to peel and stick wallpaper, wall coverings have come a long way. Though their core purpose remains the same - rescuing us from the sight of boring blank walls - their build, aesthetics and installation mechanisms have evolved in a big way. Today, you'll find a dizzying variety of designs and finishes the moment you search for a wallpaper for your home. How do you make the right choice? You can start with this quick guide to all the different types of wallpaper out there.
Types of wallpaper: removable or 'permanent'?
Traditionally, wallpapers were installed by applying a wet paste that would act as an adhesive between the wall surface and the wall covering. Today, peel and stick wallpapers have taken over, seeing as how they eliminate the hassle of a messy installation and come off without damaging the wall. These self-adhesive wallpapers are designed like stickers - you simply peel off the backing and apply the wallpaper.
Types of wallpaper: by materials
When looking for wallpapers, you will come across material options ranging from vinyl to bamboo. To make things easier, think of the broad categories of wallpaper as PVC-based or PVC-free. PVC-based (or vinyl) wallpapers are often cheaper than other materials, but their glossy surface finish makes them incompatible with rich interiors. Plus, there are the health and safety concerns of bringing more PVC into your home.
At WallsByMe, we offer PVC-free peel and stick wallpapers that are made of paper with a protective latex coating. From the base material itself, to the inks that are used for printing the designs, these wallcoverings are free from toxins. Plus, their latex coating brings the added advantage of a rich, canvas-like texture that perfectly complements stylish decor.
Find out more about our products and what makes them safe for your loved ones.
Types of wallpaper: visual styles
We now come to the most confusing aspect of your wallpaper search - which prints or patterns will work best for your living space? Here's a quick guide to some of the most popular wallpaper styles.
Stripes and plaids
Stripes and plaids are classic decor choices. They've stood the test of time because of their ability to bring structure into a space, and also their flexibility to adapt to changing decor trends. Vertical stripes are great at creating the illusion of extra ceiling height. Similarly, horizontal stripes can visually elongate the width of a compact room. Plaids excel at creating order and dynamism in one smooth move. They can be effortlessly retro or vintage, and stylishly contemporary if need be.
Geometric
Geometric designs are a universe in themselves. Basically, any composition involving basic shapes or patterns will fall under this category. This type of wallpaper is elegant, structured, and versatile. You can take the classic route here by opting for Art Deco sunburst motifs and elegant lattices, or keep things upbeat and modern with the help of dynamic mosaics, prismatic arrangements or quirky chevrons.
Floral and botanical
Floral patterns have appeared on wallpapers for centuries, and are truly timeless in their ability to freshen up our living spaces. These nature-inspired wall coverings can soften the edges of stark, functional settings. Look for chinoiseries and intricate damasks for a classic feel, or try some of our dynamic large-scale botanical prints that make a sophisticated statement in a contemporary space.
Retro
One of the most alluring decor styles, retro is deliciously devoid of rules. Our retro wallpapers are vintage yet forward-looking, capable of turning your everyday contemporary setting nostalgic.
Animal themed
Using wallpaper as a decor element is a great opportunity to celebrate your favorite pursuits, pastimes, and pets! We love animal-themed wall coverings for the delightful, dynamic and wholesome ambiance they create. This type of wallpaper doesn't have to be limited to children's bedrooms or informal family spaces. Many of our designs are also perfectly compatible with semi-formal living rooms and home offices.
Oceanic and nautical
Designs that take inspiration from the ocean have a natural tendency to both refresh and relax the senses. We have been expanding our collection of oceanic and nautical wallpaper to include everything from happy-go-lucky sailing symbols and sea creatures, to almost abstract, artistic renderings of deep-sea hues. This type of wallpaper pairs well with other coastal furnishings and stoneware, vintage maritime accents, and indoor greenery.
Textured
Besides brightening up your walls with a new print or pattern every season, peel and stick wallpapers also let you channel the unique energy of different materials like wood, stone, brick and fabric. In other words, you can introduce "visual textures" through high-quality removable wallpaper. This type of wallpaper can be used to create statement walls, or give an entire room the feel of a log cabin, rustic loft or Boho-chic haven, depending on the faux texture you choose.
We hope this post has brought you closer to figuring out the best type of wallpaper for your living space. Order samples of your favorite designs now, and don't forget to go through our room measurement guide before placing your final order.