Farmhouse Color Schemes That May Surprise You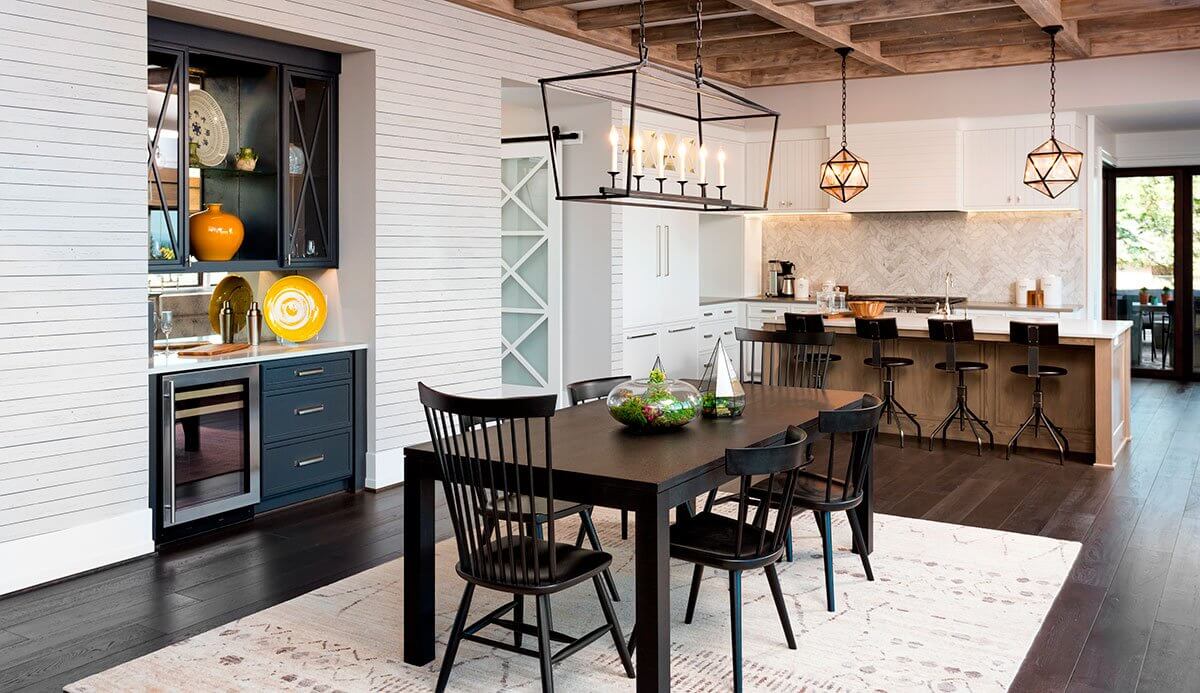 The farmhouse aesthetic may have originated in a simpler time, but it has won most contemporary hearts. Widely recognized as one of the more reliable decor styles for those with sophisticated tastes, farmhouse interiors strike all the right chords. They blend quaint charisma with modern minimalism. They take an honest approach to finishes, drawing warmth from woodsy elements and coolness from clean white paints. Plus, the use of natural elements in the farmhouse look is subtle and masterful — the kind that charms you in an instant.
It's hard to find a reason not to go for a farmhouse look the next time you decorate — unless, of course, you like bold colors. One of the most common concerns among new decorators is whether colors (other than whites and muted neutrals) have a place in farmhouse-style interiors. Well yes, you can certainly add color to farmhouse decor, but there are some guidelines to keep in mind in order to ensure that you maintain the integrity of this chic and charming aesthetic.
Let's look at some farmhouse color schemes you can use in your home interior. These should give you a head start on your DIY farmhouse decor project!
How to Use Farmhouse Color Schemes in Interior Design
White Ivory Faux Shiplap Texture Fabric Removable Wallpaper
Root Your Decor In Whites.

It's one thing to get adventurous with your farmhouse look, but you shouldn't ignore the basis of this charming aesthetic. White painted wooden walls, cozy vintage furniture, and plenty of natural light are central to the farmhouse look, and it's best not to stray too far away from these. You can pick warm or cool white tones as the foundation and gradually layer them with other colors. If you're worried that your living space will end up looking dull, consider using peel and stick wallpaper bearing shiplap or whitewashed brick textures.
White Shiplap Textured Fabric Removable Wallpaper
Add Woodsy Tones.
Wooden finishes are key to crafting a farmhouse look. Traditionally, they have appeared as wooden beams, cabinetry and furniture, but you can also introduce them through wall finishes. An accent wall covered in distressed wood textured wallpaper, for instance, can bring instant rustic allure to your space. If you already own quaint wooden furniture, this would be a great opportunity to show it off — perhaps in the company of wicker accents and washed-out weaves.
Beige Wood Peel and Stick Removable Wallpaper
Explore Light Pastels.
Once you implement farmhouse color schemes in interior design, you realize there's more to it than whites and neutrals. You can in fact introduce any color ranging from yellow and orange to blue and green — provided you stick to pale pastel tones. Barely-there blues, greens and aquamarines are an excellent choice for the cabinetry in your farmhouse-themed kitchen. You can also add warmth to a farmhouse-style home office or bedroom through muted yellows or light blush tones. Subtle botanical or geometric patterns that don't interfere with classic forms are also welcome in such settings.
Blue Global Tile Adhesive Fabric Removable Wallpaper
Make Room For Vibrant Patterns.
If you're mulling over farmhouse color schemes for your home interior and would like to jazz things up, there are ways to introduce bold shades of red, orange, or purple as well. The key is to make use of prints and patterns that pair these colors with white or neutral shades. A series of vibrant Moroccan tiles can be a beautiful accent in a farmhouse-style kitchen, for instance. Try one of our tile-patterned peel and stick wallpaper options to work some quirk into your quaint living space.
Turquoise Faux Wood Fabric Removable Wallpaper
Moody Blues And Greens.
The innate sophistication and simplicity of the farmhouse aesthetic offers many opportunities to introduce dark shades of blue or green. It could be through the use of statement furniture upholstered in navy, a kitchen island painted deep green, or even a carefully crafted accent wall with a vintage damask or floral print in charcoal tones. Many designers also experiment with dark ceilings in farmhouse interiors. Such elements allow you to lend a metallic twist to farmhouse color schemes and give your home interior a glamorous edge!
Try your hand at farmhouse decor and let us know how your DIY project panned out. To get you off to a strong start, we offer a wide range of shiplap, distressed wood and brick textured peel and stick wallpaper. Not only are these PVC-free wallpapers chic enough for the most stylish of spaces, they're also designed for easy installation and damage-free removal. Shop our range at Walls By Me.