Choosing A Kitchen Wallpaper Pattern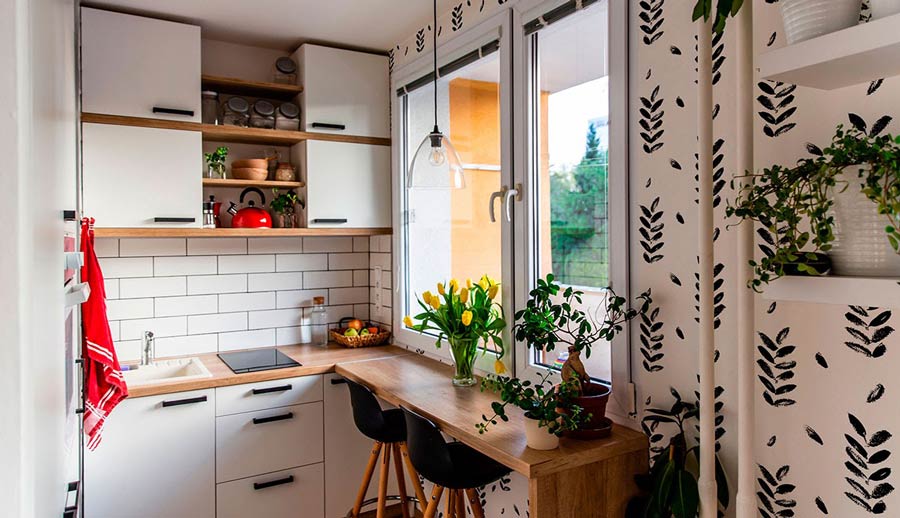 Regardless of your culinary prowess, it always helps to have a few kitchen decorating tricks handy. As the heart of your home, your kitchen always sets the tone for the rest of the space. Whether you spend hours at the stove or swing by only to fix your morning cuppa, a cheery, charming setting serves as an instant pick-me-up.
As we get used to spending more and more time indoors, it's time to personalize and pep up even those standard, utilitarian spaces that get relegated to cookie-cutter wall treatments. Sift through some charming kitchen wallpaper patterns and ideas to help you rustle up a magical ambiance in no time!
5 Kitchen wallpaper patterns we recommend for your next refresh
1. Weathered Wood for Country Charisma
The country theme is a timeless hit when it comes to kitchen decor. Cozy wooden treatments, quaint moldings, rustic fixtures and warm lighting never fail to craft a cozy ambiance. When deciding on a kitchen wallpaper pattern don't forget to consider faux wood textured designs. Here at Walls By Me, we offer stunning visual textures such as weathered wood and shiplap that exude a rustic charm without giving you any installation hassles. If you have the luxury of a spacious kitchen, try creating a distressed wood feature wall, leaving the rest of the space painted white for an elegant contrast.
2. Elegant Edibles
Happy-go-lucky fruit and vegetable prints never fail to light up a kitchen. If you're looking for informal kitchen wallpaper ideas, treat yourself to some vibrant 'edibles.' We recommend small scale, seamless wallpaper sporting white backgrounds with bright yellow, orange, pink or green tones. Opt for a design with a hand painted finish to bring a delightful retro vibe to your kitchen. Ensure that you don't overuse these prints and cramp up the space. A single statement wall is enough to add a cheerful flair. Monochrome finishes everywhere else can help bring out your unique kitchen wallpaper pattern.
3. Botanical-Themed Breakfast Nooks
A slight variation in design can work wonders within a compact or open-plan kitchen. For instance, you can introduce a black-and-white floral or botanical wall covering to demarcate the breakfast area, and a more structured geometric or textured design alongside other counters and shelving. Other natural elements like houseplants, potted herbs, or flowers in vases will beautifully complement your botanical kitchen wallpaper pattern.
4. Cool Contemporary Geometry
If your open-plan kitchen extends into the living or dining area and there's ample room to work with, a bold, dynamic geometric pattern could be just what the space needs. Contrast the clean, structured layout of the cooking area with a playful chevron or ikat pattern. You could go all-out with a statement color that gels with the rest of your decor, or play it safe with a reliable pairing of bold blue or green elements on a white background.
5. Pretty Florals For Your Pantry
It's not just prominent stretches of wall that decide your kitchen's look-feel. There's a lot you can achieve by transforming your cabinetry and storage units. This is one of the biggest perks of working with peel and stick wallpaper — they don't just suit your walls! Dress up your pantry, shelf backs, and other utilitarian spaces using a charming floral pattern. A whimsical composition in muted pink and aqua tones will instantly generate a retro vibe. Always use such a kitchen wallpaper pattern in measured doses, and in combination with contrasting white or pastel-hued finishes and serving ware.
Which of these kitchen wallpaper ideas will you try first? Decorate or refresh the heart of your home as often as you need to with our gorgeous removable wallpaper options. Order a sample of your favorite print now.