Does Peel And Stick Wallpaper Damage Walls?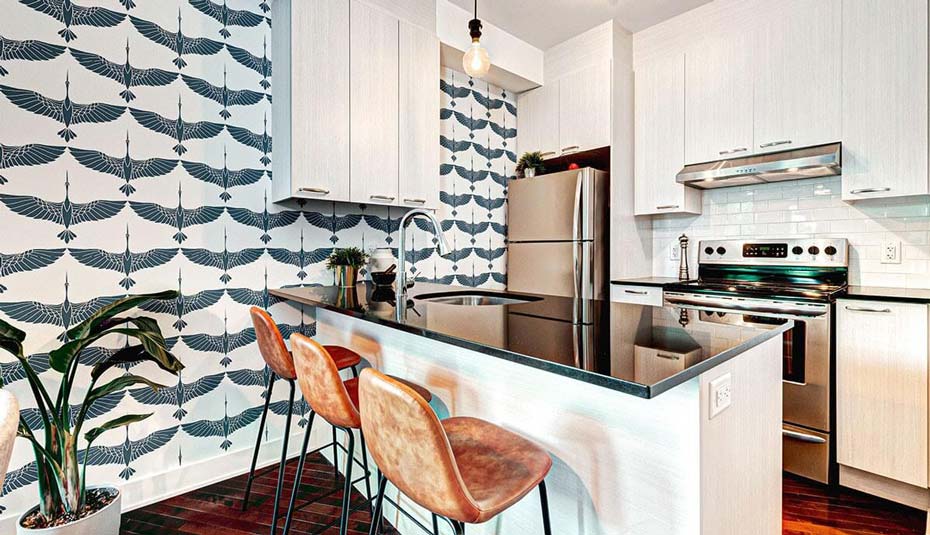 There was a time when featuring any kind of pattern or graphic on your walls would require laborious and skillful painting. Then came traditional paste-based wallpapers that offered to place an existing print or pattern on your wall. However, it wasn't until the invention of removable wallpaper that the possibility of transforming your walls at will opened up.
Today, you'll find decor experts and DIY enthusiasts alike opting for removable wallpaper. The idea of peel and stick wall coverings sounds so good on paper that first-time users can't help but wonder if there's a catch. Is it really that simple? Can you flaunt a wall full of flowers within minutes and swap it out for a faux wood effect or a simple painted look a couple of months later? Does peel and stick wallpaper damage walls in any way?
It Depends On What You Choose.
Generally, removable wallpapers are equipped with low to high-tack adhesives. This allows them to leave a wall relatively easily. The thing is if it is too low-tack it will fall down the walls.   If it is too high tack and the wall was not properly primed, it does not have the correct type of paint or it is not a smooth surface it may rip the paint. Regardless, removable wallpaper has it will always be way easier to remove when you compare it to regular wallpaper. Traditional wallpapers require wet paste for application and normally tear your wall apart when removed while peel and stick wallpapers will typically come off without leaving much of a mark.
This is where your choice of removable wallpaper comes in. It is important to understand the different materials that your wallpaper could be made of, and the pros and cons that they bring. Most peel and stick wallpapers today are made of vinyl, paper, or fabric. The Walls By Me range exclusively consists of thick, high-quality paper-based wallcovering. It is a latex saturated for excellent durability and has an embossed weave texture. Matte finish.
This is not just because of the superior-grade, medium-tack adhesive backings of our wallpapers. The question, "Does peel and stick wallpaper damage walls?" also requires an understanding of how various wallpaper materials behave. Our paper-based material is breathable and will allow air circulation to your wall. Vinyl, on the other hand, completely blocks airflow.
What this means is that if you leave your wallpaper up for a significant length of time, in a room that isn't very well ventilated, mold or moisture damage could start building up underneath the wall covering. When you take the wallpaper off, you could have an unsightly surface to deal with.
In terms of looks, feel, and reusability, most design experts recommend sticking to medium to high tack peel and stick wallpaper with a matte finish. This way, your favorite florals, geometric patterns, and faux wood textures won't have telltale signs of cheap glossy vinyl on them. You will also be able to install these beautiful designs within minutes and peel them off just as easily when it's time to try a new look — whether that's next month or years from now! Of course the longer you leave the more the tack will adhere and depending on how and where was installed it may come off as easy as you see in the video below or not.
When Can Peel And Stick Wallpaper Damage Your Walls?
When you think about the tons of paint there are in the market, the tons of surfaces and places where people are applied wallpaper to and more importantly how the wall was prepared and wallpaper was applied it is nearly impossible for any brand to guarantee 100% damage-free wallpaper. Here are a few situations in which even the best peel and stick wallpaper may end up damaging your walls or paint when removed. This can happen if you apply the wallpaper on a freshly painted wall before the paint has had a chance to dry completely; if you applied a wall the has several layers of paint one after another creating a thick crust; walls that have not been properly primed or used do not recommend painting.
We recommend waiting at least 30 days before applying our high-tack tick paper-based peel and stick wallpapers and murals on a newly painted surface. If you're applying the wallpaper on drywall, make sure it is primed and painted first to create a smooth surface for the wall covering to sit on. This way, you minimize the risk of peeling your wall paint or leaving a residue behind on removing the wallpaper.
Lastly, if you still have concerns about whether to peel and stick wallpaper damage walls, it's best to check for yourself before making a major commitment. Apply a sample on a small section and leave it on for a few days. Remove it and check whether it leaves a residue.
Ace your decor and bring your rented space to life! Our fabulous and extensive range of PVC-free peel and stick wallpapers are latex saturated for excellent durability and allow you to clean it. It has a high tack so it will not fall down the walls and if applied as instructed, and removed as instructed it should be a smooth ride. Ask us if you have more questions or order a sample to check it out for yourself!