Eclectic Elan: Find Your Mid-Century Boho Decor Inspiration Here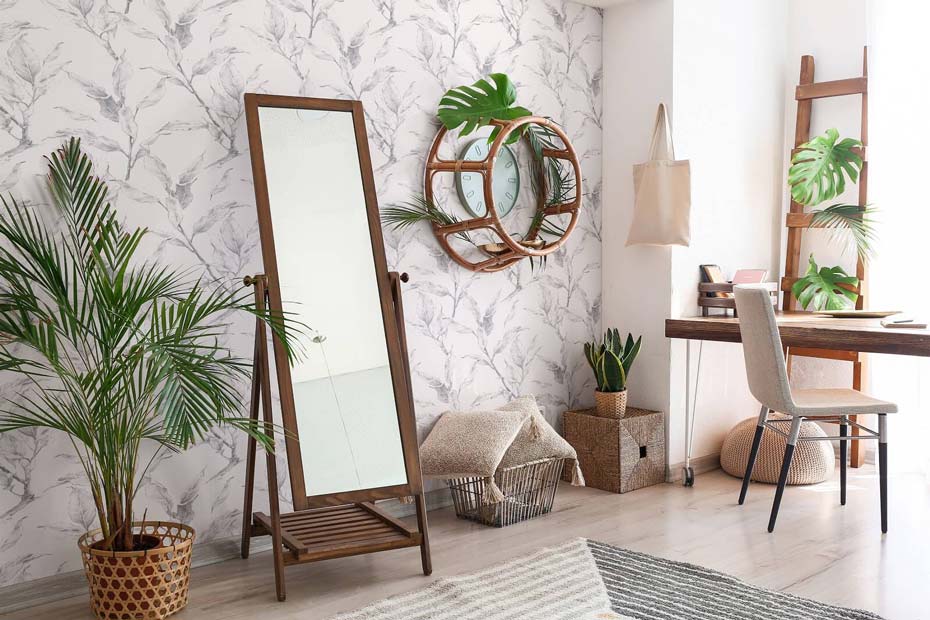 What can sleek functionalism and relaxed exuberance possibly have in common? Not a lot, but they do manage to strike a gorgeous balance when they come together in what is known as mid-century boho decor. This blend of mid-century and bohemian elements is not just stunning to behold but also sensible to live in.
So What Exactly Does Mid-century Boho Decor Look Like?
To put it simply, this decor style retains the functional forms, clean lines, and minimalistic foundation of mid-century spaces. To these it adds vibrant colors, earthy textures and laid-back accents for a free-flowing bohemian flourish. Mid-century boho decor is the suave urban cousin of tropical bohemian spaces, inviting their warmth and highly personal feel into classically charismatic '50s interiors.
Is this end result difficult to achieve? Not if you try some of these approaches involving clever combinations of furniture, accessories, and removable wallpaper.
6 Easy Ways To Achieve Mid-century Boho Decor
1. Bring your '50s furniture into focus.
One of the simplest ways to set a mid-century theme in your living space is through spacious, comfy '50s furniture. A classic leather-upholstered couch with tapered legs, for example, will instantly turn your living room old school cool. Next, surround this statement piece with a combination of sleek metal fixtures, rough-hewn wooden treatments, woven accents, and perhaps a traditional rug or throw for a free-wheeling boho effect. Treat your walls to white or light-toned wallpaper to visually magnify the space and keep the focus on your mid-century furniture.
2. Gild it up!
If you'd like to give your mid-century boho decor a sophisticated spin, consider gilded accents as a final overlay. This could take the shape of metallic fixtures, or even cleverly chosen peel and stick wallpaper. Delicate lattice patterns in gold or earthy hues are perfect for this purpose. They can add a rich sheen to the setting, and also serve as a lighter counterpart to weighty, monochrome upholstery or accents.
3. Keep it unfinished.
Raw, rough-hewn finishes will beautifully complement your stately mid-century furniture and sleek, shimmering accents. When establishing mid-century boho decor in formal living or dining areas, also make it a point to include quirky wooden accessories with an unpolished vibe. You could also enhance this effect through rustic planters and floral peel and stick wallpaper in a hand-drawn style.
4. Play up your fabrics.
An abundance of fabrics and weaves is integral to the bohemian look. If all the '50s decor ideas you're trying to implement are turning overly austere, soften things up by adding lots of fabric accents. Cushions, throws, and rugs will never hurt, but you can solve the problem in a single move via weave-patterned peel and stick wallpaper. Our selection offers many such options in which geometric patterns and lattices have taken on a gentle woven quality.
5. Keep things texturally rich.
The addition of natural textures will immediately add a boho quality to your mid-century settings. Go for jute planters, rattan accents, and a mix of wooden finishes to complete the texture palette. You can always add some Art Deco peel and stick wallpaper to score on both texture and classic elegance.
6. Break out of the mold!
The freedom to express your personal sense of style is integral to the bohemian aesthetic. It also applies to your mid-century boho decor. Don't shy away from playful prints and patterns, and don't be afraid to mix them up. Once you've set a foundation using '50s style furniture and sleek accents, feel free to experiment with quirky chevron wallpaper, eclectic accents, and vintage finds from your travels. Eclectic settings look great when each element is celebrated for its uniqueness, and that's what mid-century boho decor encourages you to do.
Exploring '50s decor ideas for your living space? Set the perfect tone with our classic peel and stick wallpapers, or find a gorgeous bohemian complement in our geometric and textured collection. When in doubt, order a sample to check it out!