14 ocean-themed wallpapers to inspire your decoration!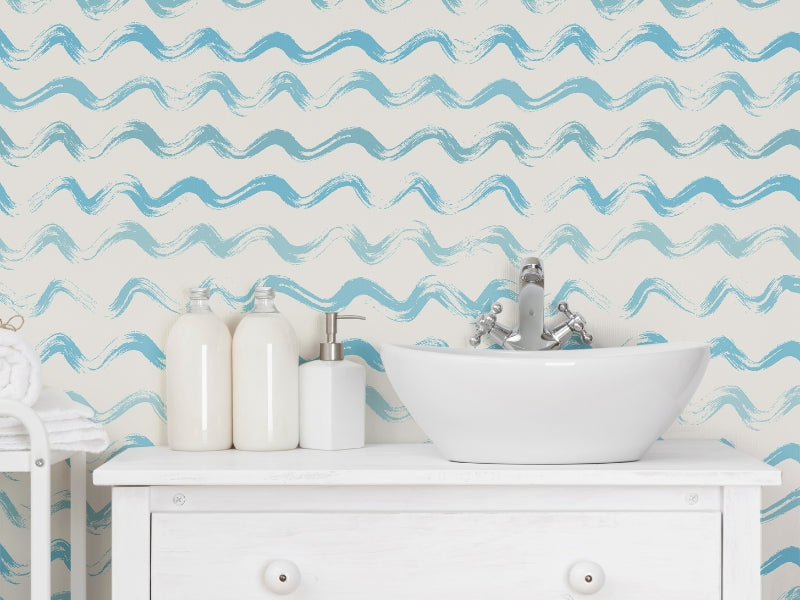 Nothing better than ocean-themed wallpaper to bring serenity and sophistication into your home. So easy to install and with charming prints and designs, they are an excellent opportunity for those who want to transform the room and get closer to the charms of the sea!
The possibilities are endless, from colorful prints for the children's room to black and white nautical wallpapers that complement minimalist and elegant spaces.
Check out our ocean-themed wallpapers inspirations and choose one to be part of your home! They are as beautiful and unique as the blue of the sea! You will be delighted!
Realistic ocean wallpapers — you will feel the sea breeze!
If you love the sea vibe but live far from the beach, how about recreating that oceanic feeling with realistic wallpaper? The murals with high-definition prints will make you feel close to the sand and the waves!
Check out some options and tips on where to install them!
1. White Clouds Landscape Peel and Stick Removable Wall Mural
This realistic ocean wallpaper is perfect for ensuring a peaceful night's sleep. Choose an entire wall to install and create the effect of the infinite horizon! It's like sleeping on your private island every night!
2. Blue Ocean Landscape Peel and Stick Removable Wall
If you need inspiration and tranquility to work, how about a realistic ocean-themed wallpaper for your home office walls? You won't even feel like you're working!
3. Beige and Blue Beach Peel and Stick Removable Wall
Would you like to rest with a view of the sea? This wallpaper with a print of the shoreline will leave you feeling like you are on vacation every day. It is perfect for relaxing rooms such as bathrooms and spas.
Remember that if you choose to install it in the bathroom —a place prone to humidity— it is essential to invest in water-resistant wallpapers!
4. Blue Turtle Peel and Stick Removable Wall Mural
And if you're enchanted with marine biodiversity, this removable wallpaper is perfect for your house! You can install it in any room and make it more cheerful and unique! This will help you boldly accentuate your wall decoration!
Because of the realistic print, which gives the feeling of three-dimensionality, it is a great choice to make small rooms seem broad.
Ocean-themed wallpapers for nursery — perfect to delight the kids!
Children are usually enchanted by the deep sea wonders and creatures! And to make the nursery more colorful and fun, check out some inspirations of illustrated ocean-themed wallpapers. They sparkle creativity and are a delight for everyone!
5. White Fish Nautical Peel and Stick Removable Wallpaper
With this nautical wallpaper full of white doodles against a black background, you will instigate your child! The illustrations of jellyfish, fishes, whales, and sea life define cuteness. Because of the neutral tones, they are easy to combine with other furniture colors.
6. Blue Wildlife Children Peel and Stick Removable Wallpaper
For a playful touch to your child's room, this colorful ocean-themed wallpaper is perfect! In addition to sea wonders, the drawings feature nature's biodiversity and geographic maps for your child to familiarize themselves with!
And when your little one grows up, the removable wallpapers are easy to swap out for a more stylish option!
7. Blue and Purple Fish Nautical Peel and Stick Removable Wallpaper
With geometric designs, this ocean-themed wallpaper is an excellent choice to bring a modern touch to your kid's room. They can also be applied to reading areas and teens' bedrooms. The creative shapes and the blue and purple shades bring a stylish edge to your walls!
Black and white ocean wallpapers — make your home sophisticated
To complement your decor with a maritime touch without losing elegance, check out the following inspirations of black and white ocean-themed wallpapers. The neutral tones bring modernity into the room and are versatile and easy to combine!
8. Black and White Fish Nautical Peel and Stick Removable Wallpaper
Perfect for dining and living areas, this black and white nautical wallpaper is authentic and unique in its design. The stone crab, shrimp, and oyster illustrations will bring life and elegance to your house! Also, they go well with any other furniture colors: white, woody, and many more!
9. White and Grey Fish Nautical Peel and Stick Removable Wallpaper
This detailed ocean-themed design will take you on a deep sea dive of underwater life and imagery. This monochromatic wallpaper features sea wonders illustrations that will add a touch of sophistication to your home, wheter inside or outdoors!
10. Black and White Nautical Peel and Stick Removable Wallpaper
This creative peel-and-stick wallpaper feature the power of the waves and the stability of the lighthouses! It is perfect for rooms that require inspiration, such as the workspace or reading rooms! In the addition, the expressive design in black and white will help you accentuate your wall decoration!
Elegant ocean-themed wallpapers — bring the coastal vibes inside!
For beach lovers, there is no better feeling than the sea breeze and the calmness of the sea! And with the following inspirations, you can elegantly bring the coastal vibes inside your house! You will see that minimalist designs can improve your whole decoration!
11. Pink and Purple Seashell Themed Peel and Stick Removable Wallpaper
This pink and purple ocean-themed wallpaper with seashell illustrations is delicate and an excellent option to get closer to the sea in a stylish way! You can apply it to living areas or even in the entrance hall to make your home more welcoming! They are also a splendid choice for dining rooms and even powder rooms!
12. Blue Wave Peel and Stick Removable Wallpaper
Want to give your rooms a sea vibe, but keep it simple? This blue wave design is the perfect choice for you! The shades of blue will bring serenity into your house and add a touch of sophistication to your decoration. You can apply it in living areas or even in the laundry rooms!
13. Blue Nautical Peel and Stick Removable Wallpaper
If you like the majestic deep blue of the sea and wonder what magical creatures live at the bottom of the ocean, this is the perfect choice! With mermaid, bubbles, and flower illustrations against an incomparable blue background, this peel-and-stick wallpaper is unique and a delight to our eyes!
14. Beige and White Fish Nautical Peel and Stick Removable Wallpaper
Nothing is more elegant than the combination of beige and white! With sandy tones, this nautical-themed wallpaper features an ensemble of starfish, seashells, and other ocean creatures! It can be applied in relaxing rooms such as the bathroom or dining areas!
Ready for a deep sea dive? And to keep the nautical feeling in your house, check our shiplap wallpapers options!
Till next time, sailor!