10 wallpapers for laundry room you need to know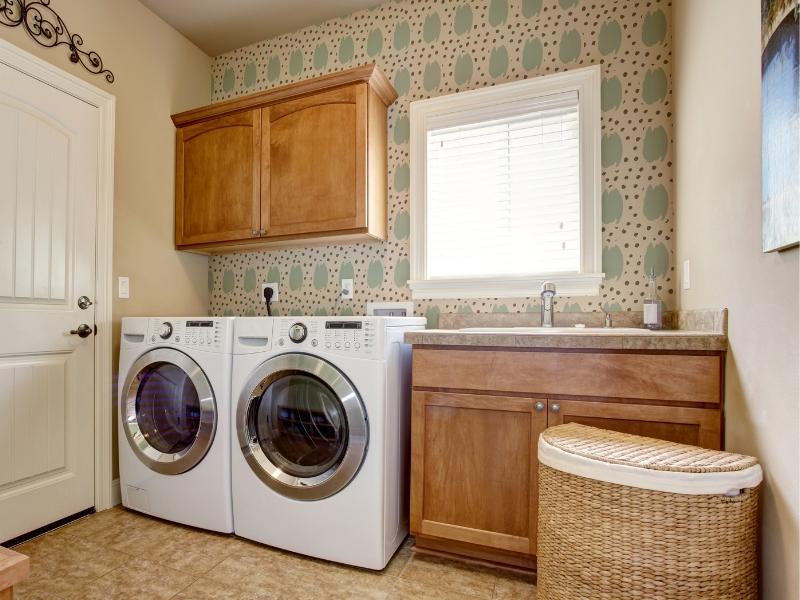 The laundry room generally is a room that is left out of a decoration project. But it doesn't always have to be that way. Many times, choosing a prominent wall to decorate can be enough to completely transform this room. And for this you can count on our peel and stick wallpapers, a practical and economical decoration solution.
So, to inspire you to add color and style in the laundry room, we at Walls By Me have put together a list with 10 beautiful wallpaper options for the laundry room. The list includes designs for all styles, from the most basic ones in solid colors to geometric and textured prints. Read on and see what we have prepared!
Give your laundry room a wistful wall of waves with the Blue Illustration Nautical Peel and Stick Wallpaper. This wonderful design features a heavy blue and white mist of oceanic waves, crashing on the shore in splendid fashion. Rich and luscious shades of blue highlight this beautiful backdrop as it balances color and style with its soothing setting!
If your laundry room wall décor has you feeling blue, maybe it's time you change the view. The versatile and stylish Blue Lines Peel and Stick wallpaper is an option that creates a fabulous wavy effect on the featured wall and showcases a hue of blue that complements any open area or living room.
How about adding some texture to your laundry room walls? The Blue and Yellow Faus Stone Texture wallpaper is a large scale stone print that features artistic shades of blue, grey and burnt orange. Your illuminated white background delivers an open and spacious tone, perfect for any featured wall in your bathroom, laundry room or open space.
If you are more classic and like botanical prints, you will love this option! This plant chic wallpaper pattern features vibrant blue floral stripes, veiled over a subtle shade of silver. The fusion of color is interspersed adding an unexpected finish and tonal profile perfect for your featured wall. With it, you can give your laundry room a classic and endearing presence!
The color blue and the bubbles are all about laundry, agree? With the Blue and White Textured Basic Peel and Stick wallpaper design you can add color and personality to your walls. Featuring a crisp white backdrop and a hue of watercolor blue, this textured wallpaper design delivers a dimensional profile of drops that will give your laundry room an all natural look and an added pop to any area you apply it to.
The Blue and White Triangles Wallpaper is a perfect option for those who like geometric shapes and the effect of watercolor paint. This modern geometric wallpaper features rows of reverse-side flipped mid scale triangles in deep ocean and faded blue, with a crisp white background. The triangles have a pretty worn watercolor effect for added tonality! Keep your wall laundry room decor looking fresh and stylish with this minimalistic tone.
And finally, this denim wallpaper suggestion goes especially for you who want to add just one solid color on a prominent wall within the laundry room to get away from the usual. Denim has always been an everyday symbol of style. And with this classic wallpaper design would be no different. The neutral shades of blue, raised ink, matched with a deep rich texture on it will add color, style and a unique look to your walls.
if you are looking for a neutral option, come with us to talk about the details of this model! Coupling the dynamism of a terrazzo pattern with the subtlety of soft hues, the gorgeous peel and stick Ivory Terrazo Basic Peel and Stick wallpaper is a treat for the eyes. Featuring a mélange of natural shapes in delicate pastels, this lovely light-toned piece pairs beautifully with country-style furniture, monochrome furnishings and warm metallic accents.
If you're looking for a versatile and geometric wallpaper design that will complement basically any space, look no further. The Blue and White Circles Geometric wallpaper design flaunts a beautiful watercolor color palette on a pattern of half circles. Bright white and rich shades of blue create a heavenly texture that will leave you floating on cloud nine. A great option of wallpaper for laundry room!
The Mint Green Texture Teens wallpaper is another option for those who want a more neutral print. This glittering collage have colorful paint splotches in mint, grey, and turquoise, on a bright white backdrop that provides a clean canvas. A beautiful combination of art, color and confetti bring this wallpaper pattern to life, and is sure to do the same thing for your laundry room walls.
Can you put wallpaper in a laundry room?
Yes, wallpapers can be applied in any room of the house, including the bathroom. A few water splashes will not damage the wallpaper; after all, it is washable! It is not waterproof, so do not plan to inside the shower, but around the sink, tub, laundry room, kitchen, and any other place you can think of, you will be fine! 
Pro tip: Make sure the surface is completely dry when you are installing your wallpaper in a humid or wet area. 
Today, with the practicality of peel and stick wallpapers, you can change the style of your walls without the need for professional help. Check out our guide on how install wallpaper on your walls!
Will peel and stick wallpaper work in laundry room?
Yes, our wallpapers can easily be applied in a room such as a laundry room to add style and authenticity to the walls. They can be applied in humid environments such as bathrooms and laundry rooms and cleaned with a damp cloth!
How can I cover my laundry room walls?
To cover walls with color or an older finish that you want to say goodbye to in your laundry room, you can count on our removable wallpapers and enjoy their easy Peel and Stick application, which allows you to save money on labor costs! Most of the photos above are creations of our customers, kindly sharing them with us for this post, so find your jam and get inspired! 
These were our tips on wallpaper patterns to apply in your laundry room! If you liked the content, don't forget to share the post with your friends, and for more design ideas, decorating guides and related subjects keep following the blog posts!