Wallpaper designs for living room: 6 ideas!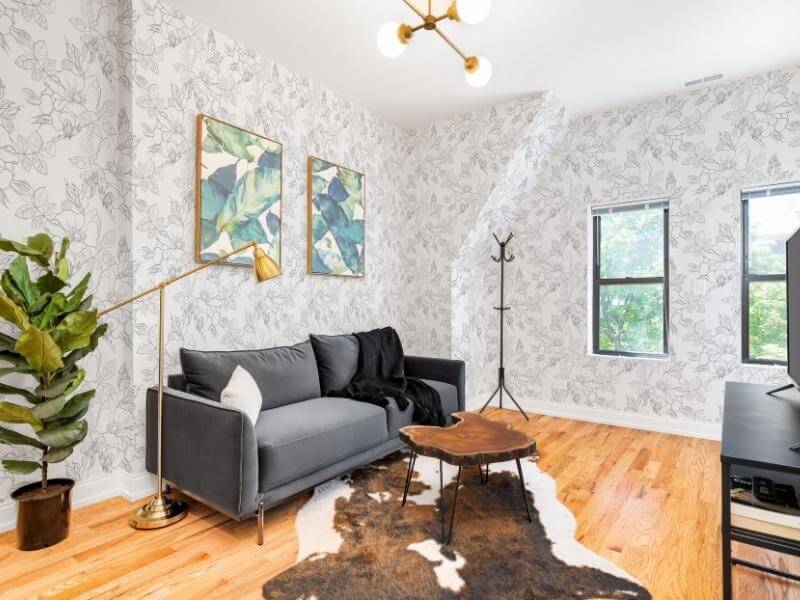 Decor-wise, living room is the most prominent room in the house, the first that guests step into, and the one that sets the tone for the rest of your home. Function-wise, it's your default unwinding space. Of late, our living rooms have also been working extra hard to support our new work-from-home lifestyle! So when this multi-faceted, multipurpose space needs a makeover, you need a reliable decor fix. Let's help you ace it with some fabulous wallpaper designs for living rooms.
We're definitely partial to wallpaper, but it's not without reason. When your living room requires a quick refresh without taking up all your time and resources, there's simply no alternative to removable wall coverings - especially when these wall coverings are designed to complement rich, sophisticated interiors. Take inspiration from these styling ideas we've put together for you.
Decorate like a pro with these wallpaper designs for your living room
1. A playful mix of geometry
Give your eyes something fun to linger on every time you step into your living room. So geometric shapes and patterns offer many interesting departures from boring decor, and we highly recommend mixing them up.
Create a vibrant ambiance by combining bold chevron wallpaper with rounded furniture and free-flowing botanical prints. This is also an opportunity to introduce layered color palettes for added dynamism. Pair calming blue or green walls with warm yellow or orange furniture and fixtures, and throw in neutral toned accents for balance.
2. A splash of sunshine
When decorating your living room, your choices aren't limited to formal, understated settings and overly playful, quirky compositions. Some of our favorite wallpaper designs for living rooms blend gentle prints and classic patterns with zesty colors like yellow and orange. These vibrant yet versatile wall coverings will add a sunny vibe to your living room, and serve as an excellent base for themes ranging from coastal to Art Deco.
For that irresistible mix of balanced and buoyant, avoid introducing too many additional colors to such settings. Go for muted or monochrome white furniture and accents to keep the focus on your cheery yellow walls.
3. Classic with a bold edge
Drawn to the charm of traditional prints and patterns, but worried they will make your living room appear dull and dated? Another way to invite vintage designs to your contemporary home is through bold compositions. Think along the lines of wide, structured stripes in deep colors, which immediately bring order into your living room.
Such wallpaper designs are perfect for living rooms that double up as workspaces or are part of an open plan setting that also includes kitchen or dining areas. Classic woodwork, vintage furniture, and playful modern furnishings and accents can work with these wall coverings to create a fun yet elegant space.
4. Blissful blues
We're currently in love with blue color palettes, and it looks like we are not alone. Dulux has named "bright skies" as the color of 2022. One look at this delightful hue, and it's easy to see why. For those who are longing to reconnect with the outdoors or grappling with the everyday reality of being home, a pale yet cheerful blue palette serves as a welcome escape.
Subtle, small scale prints featuring floral or geometric patterns are ideal for this purpose, adding depth and visual texture while retaining the focus on the calming blue theme. This also opens up the possibility of introducing a tropical or coastal flair through houseplants and vivid accents, or a relaxed Japandi vibe through muted natural elements.
5. Contemporary botanicals
Botanical is a style that knows no bounds. From classic damask arrangements to near-abstract prints, botanical compositions can take any route. When it comes to wallpaper designs for living rooms, our current favorites include free-flowing, small scale botanical illustrations with a minimal rendering style. These prints blend artistic elegance with an upbeat, fuss-free contemporary aesthetic, thus serving as a great backdrop for eclectic, welcoming furniture and accents.
6. The allure of natural materials
Whether you're going for a quick living room refresh or planning an entirely new theme from scratch, textured peel and stick wallpaper will never let you down. By textured, we're referring to visual textures like faux brick, stone, wood and fabric, which look every bit as rich and elegant as these materials themselves, yet provide a smooth surface that you can easily clean and maintain. Try some of our faux canvas or burlap textured wallpaper designs to add a Boho chic flair to your living room. Pair them with bright, ethnic furnishings, rugs and throws to complete the look.
What are some of your favorite ways to refresh your living room? Let us know if you tried any of these wallpaper designs for your living room makeover. If you're unable to decide between two or more designs, order a sample and test it out first. We take extra care to ensure that our wall coverings are easy for you to install and remove, and also create a safe, toxin-free indoor environment.