Small living room ideas with TV: how to decorate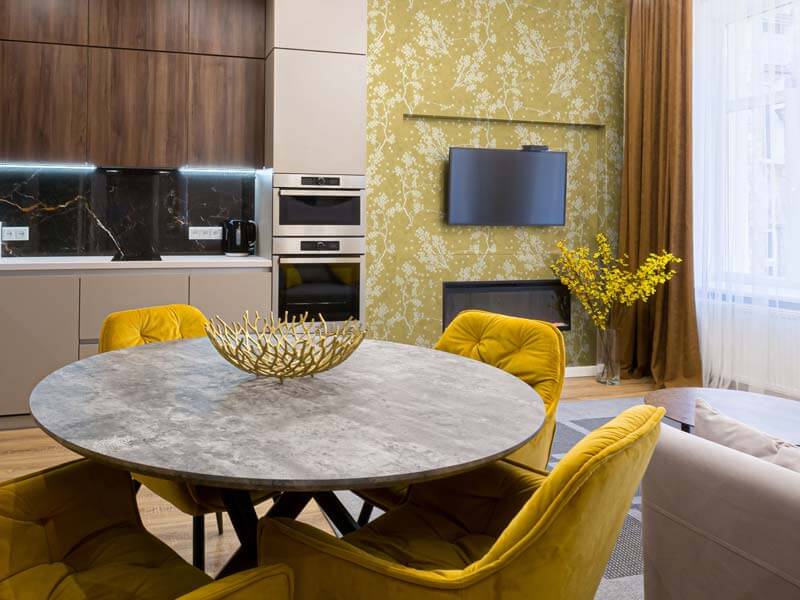 Small Living Room Ideas: TV Wall 101
A dedicated post on how to decorate the wall behind your TV stand - aren't we getting a little too specific here? Before you come to any conclusion, let's take a moment to think about your dream living room. You arrive at a beautifully balanced color palette, identify gorgeous wall treatments and upholstery for the space, and get ready to flaunt your furniture in the perfect arrangement…and then comes the elephant in the (living) room. How do we ignore the television that demands a place on your most prominent wall and contributes nothing to your decor?
If you're among the few for whom a TV in the living room is not a necessity, this post may be irrelevant for you. For most people, however, the TV is the focal point of the living room, at least in terms of functionality and furniture layout. Thankfully, there are ways to prevent it from also becoming the visual focus of the space. Read on for some pro tips and tricks to soften the visual impact of your TV set and even allow it to enrich the ambiance.
Small living room ideas to turn your TV into a design element!
1. Frame it
When you want to decorate the wall behind your TV stand on a budget, clever optical tricks are your best friend. How do you camouflage a prominent, dark, rectangular fixture on your wall? One way is to surround it with framed photos and artwork, in a way that it becomes part of a composition of basic shapes. Preferably, these photos and artwork should also be featuring black or gray as the predominant color. Even if the photos are not as big as the TV, their combined impact will keep the gadget from standing out in the wrong ways.
2. Use a dark background
Another way to keep your TV from becoming an eyesore in your living room is to use a dark wall color. Consider dark paints or dark wallpaper involving shades like black, charcoal, navy or deep green. If the room is low on square footage, white or light toned furniture can be used to create a contrast and keep the space from becoming claustrophobic. You would also need to ensure there is enough natural light in the space, especially if it's a small living room with a TV.
3. Use geometric patterns
Often, the challenge with incorporating gadgetry like TV sets and computers in your decor is the sharp, rectilinear geometry that they introduce to the space. This makes them stand out in ungainly ways, especially when the rest of the room features soft, organic prints, patterns and textures. This is why we recommend finding a middle ground through geometric patterns. A clean grid or lattice is a great idea for the TV wall in a small living room. It makes the TV part of the same geometric scheme and helps the entire setting feel orderly and refined.
You can achieve a similar effect through wall tiles or peel and stick wallpaper that features a photorealistic print of a tiled wall. Complete the look by including geometric prints (such as ikats) in your upholstery and accents, and using indoor plants to soften things and add natural charm.
4. Create interesting displays
One reason your TV is hogging all that attention in your living room is that it probably doesn't have much competition. Display some accents, planters or souvenirs around it to give the eyes something else to rest upon. You can make use of your existing TV unit or mantel shelf to display these items, or install a couple of shelves below or beside the TV. Freestanding storage units like bookcases can also be placed on both sides of the TV and used for display purposes.
5. Rely on greenery
Indoor greenery has the potential to fix the biggest of decor dilemmas. Botanical arrangements serve as an excellent way to decorate the wall behind your TV stand as well. From lining up small planters below your TV, to using taller greens or trailing vines on the sides, there are many creative ways to style your TV wall. A charming floral or forest themed wallpaper can further enhance the look and help turn an unattractive wall into a charming accent.
6. Marble magic
Luxurious marble surfaces can work with TVs and other gadgets to lend a polished, sophisticated vibe to the setting. If you don't have the freedom, time or resources to install real marble cladding, faux marble prints can be introduced through textured removable wallpaper. Our textured collection has an impressive range of options involving marble, stone, brick, wood, and various other materials perfect for decorating the wall behind your TV stand.
Ready to get creative with the TV wall in your living room? These small but significant decor moves will transform the space within minutes. Find the perfect wallpaper to implement your TV wall idea in our extensive collection of stylish, durable, kids-safe wallpaper.