Bohemian Bathroom Decor Ideas & Trends: Check It Out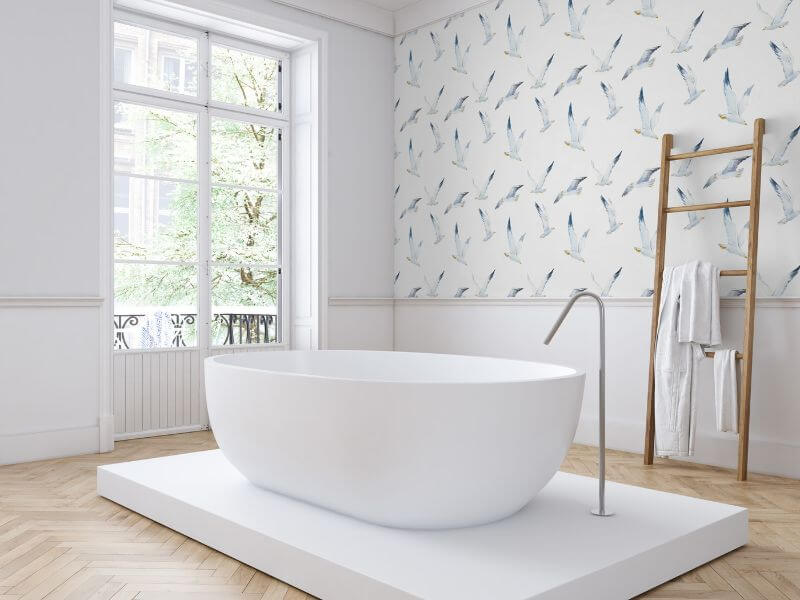 If your boring bathroom tiles have been putting you off and the usual makeover ideas seem done and dusted, it may be time to embrace the boho bathroom trend. Decor enthusiasts who are active on social media are well aware of the eclectic and cozy bohemian decor style. However, this style is generally relegated to living rooms and bedrooms. Today, we've brought you visual proof that it's also a great fit for bathrooms and utility spaces.
Do you need a quick recap of the boho style and what it involves? We've spoken about it in many posts, not only because it's one of the most popular aesthetics out there, but also because it lends itself to a wide variety of spaces and design vocabularies. In essence, the bohemian style is about using natural materials and finishes to celebrate unique, eclectic tastes. The end result can be simple and neutral or vibrant and colorful. It could feature a wide variety of materials and finishes. The only rule is that it should echo the distinctive decor preferences of the inhabitant of the space.
So how do you go about turning your bathroom boho chic? Let's find out!
6 unique ways to craft a boho bathroom
1. Make room for weaves
Sure, bathrooms don't offer the freedom to move core fittings around. However, you can certainly accessorize the space using woven, rattan or macrame accents. If you have a spacious bathroom where wet and dry areas can be easily segregated, introduce wicker stools, baskets and rugs for a cozy, boho chic feel. Houseplants or botanical wall treatments work very well with these accents, allowing you to craft a serene yet vibrant oasis at home.
2. Reimagine your bathroom counter
The counter and sink in your bathroom can take on many forms. For example, you can wallpaper the storage unit below the counter to give it any kind of look ranging from rustic wood to stylish stone. Throw in a gentle faux fabric wallpaper (you'll be spoilt for choice in our textured wallpaper collection), a few artworks of your choice, and your boho bathroom ideas will have come to life!
3. Rich yet wholesome stone treatments
The reason why woven accents work so well in bohemian settings is that they are luxurious yet simple. The same principle can be applied to other finishes and textures as well. For example, you can include rough-hewn stone in your boho bathroom to enrich its ambiance while keeping things informal and inviting. Stone finishes with hints of blue and gray are classic choices. You'll find quite a few of these in our textured wallpaper collection. When going for a realistic visual texture of this kind, it's best to avoid glossy vinyl wallpapers as they won't be able to provide the necessary richness.
4. Vibrant tiles
Cheerful wall tiles are another way to replace the monotony of a cookie cutter bathroom with boho chic pizazz. If you don't want to go through the hassle of sourcing and installing actual tiles, you can once again rely on peel and stick wallpaper to sort things out for you. When working with a small boho bathroom, it's best not to go overly traditional or overly contemporary, in order to retain the quirky charm of the bohemian aesthetic. Tiled or geometric prints inspired by Moroccan tiles and terrazos are ideal for the purpose.
5. Whimsical waveforms
Nautical prints and patterns are a natural fit in bathrooms. If you're looking for boho bathroom ideas, don't forget to explore fun oceanic prints and patterns that blend elegance with a fresh, upbeat vibe. Waves or swirls in serene blue-green tones are a safe bet for boho bathrooms, as are artistic renderings of sea creatures. If you're feeling particularly adventurous, you can also take a look at our oceanic wall murals. Whichever nautical option you choose, remember to include wooden elements and neutral toned finishes to balance the blues and give the space a grounded feel.
6. Quirky florals
A fun way to add depth and interest to a small bathroom and give it a boho vibe is through quirky floral wallpaper. We're referring to artistically rendered prints featuring sketches of flowers and leaves, which can create a seamless floral fiesta on your bathroom wall. These designs can work wonders with white or off white fixtures and paneling. Throw in a few woven accents and some indoor greens, and you'll be making heads turn!
Now that you know there are more ways than one to craft a boho chic bathroom, how about coming up with your own boho bathroom ideas? Do share the end result with us, we'd love to see how it turned out! If you need help getting started, we've got your walls covered with a wide range of stylish, durable, and kid-friendly peel and stick wallpaper. Start exploring now.