Natural wall decor: your home more comfortable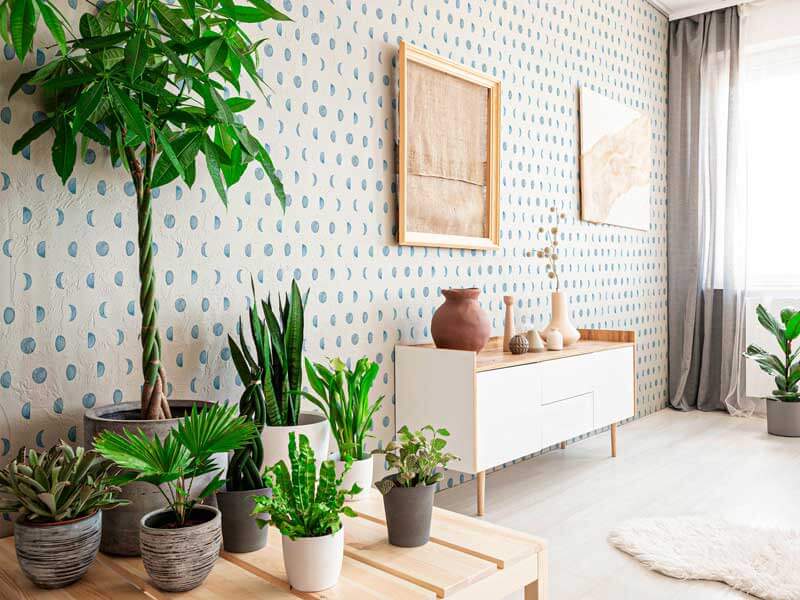 Simple elegance, minimal sophistication, or eclectic allure - no matter what your favorite aesthetic looks like, you can count on natural decor to help you achieve it. Natural home decor has been trending in both residential and corporate spaces this year, and for good reason. Few styles can match its versatility, ease of implementation, and that familiar sense of comfort that only natural elements can bring.
Before we go into the details of how to introduce natural decor to your home, let's first understand what it is. Taking the natural route is not about turning your home into an urban jungle, though indoor greenery can be a core ingredient in the setting. It's not about covering every visible surface with wood or natural weaves, though both of these elements can help define the space. In a nutshell, natural home decor takes inspiration from the simple, innate elegance of natural objects, without overpowering the space with color or texture. Soothing, relaxed, grounded and fuss-free, this aesthetic is all about simple elegance.
Let's look at a few ways you can upgrade your home or office using natural decor.
From elegant to eclectic: discover all that natural decor can be!
1. A Bohemian blend of fabrics and greens
Simple weaves in neutral colors will instantly lay the foundation for a stable natural theme in your living or working space. If you don't have the time or patience to put together natural furnishings and accents, simply choosing a faux burlap or canvas textured wallpaper will do the trick. Add houseplants and quirky accents for a whimsical, Boho chic feel.
2. Straightforward woodsy warmth
Light-toned wooden finishes are a great way to bring in natural warmth and elegance. Instead of going all out with wooden elements filling up every square inch of space, we recommend introducing wooden treatments in a measured, structured manner. Light wooden furniture set against a simple neutral backdrop is one way to go. Another route could involve the use of simple shiplap textured wallpaper for a charming but orderly vibe.
3. Maximum impact with minimal fuss
One reason why natural decor has become such a common sight in modern office spaces is that it lends itself easily to minimalistic settings. Without having to redo your entire decor, you can bring in natural touches to a simply appointed space. All-white cubicles or conference rooms with clutter-free layouts can get a lot more comfy when you add a woven accent, a woodsy feature wall, or tactile planters in neutral tones.
4. Natural yet lavish wall decor
Natural decor need not always be minimalistic. There are many successful examples of luxurious spaces crafted using simple neutral palettes and natural finishes. Wall murals featuring serene landscapes, and feature walls sporting luxe marble or stone prints can instantly turn a boring setting fabulous. These will work well with gilded or metallic accents and rich, colorful upholstery for a glamorous touch.
5. Adding weight through intense earth tones
When we speak of natural home decor, light neutral colors like off-white and beige come to mind. However, you're also free to explore the darker side of the neutral palette. Deep earth tones, when introduced in a balanced way and complemented by lighter accents, offer a unique, charismatic take on the natural style. Brick textured wallpaper in deep red-brown tones, for example, can team up with rattan, weaves and houseplants for a dramatic yet rooted ambiance.
6. Rustic charisma, au naturel
The natural style offers interesting opportunities to play with rustic decor as well. Start with a standard natural treatment, and think of ways to manipulate it for a weathered look. For example, instead of standard light-toned wood, consider distressed planks for a distinctive vibe. Or instead of a standard exposed brick treatment, try something shabby chic. The idea is to use weathered elements in measured doses, so as to keep the overall setting balanced and natural.
7. Pops of pastel
Last but not least, natural home decor also has room for those who love color. This is where you can truly express your love for pastel hues. Start with a basic neutral foundation. Then choose your favorite pastel tone and showcase it in the form of a decorative accent or a single piece of furniture. To understand more about the mechanics of pairing pastels with neutral colors, check out our guide to pastel colors in home decor.
We hope you're excited about giving your home or office decor a natural makeover. Our textured wallpaper collection is a great place to start exploring ideas. These greenguard certified inks or non toxic certified inks look every bit as real as the materials themselves. If you aren't sure about the specific design you have in mind, order a sample and test it out in its future setting!