Mid century modern wallpaper: where to use? Check it out!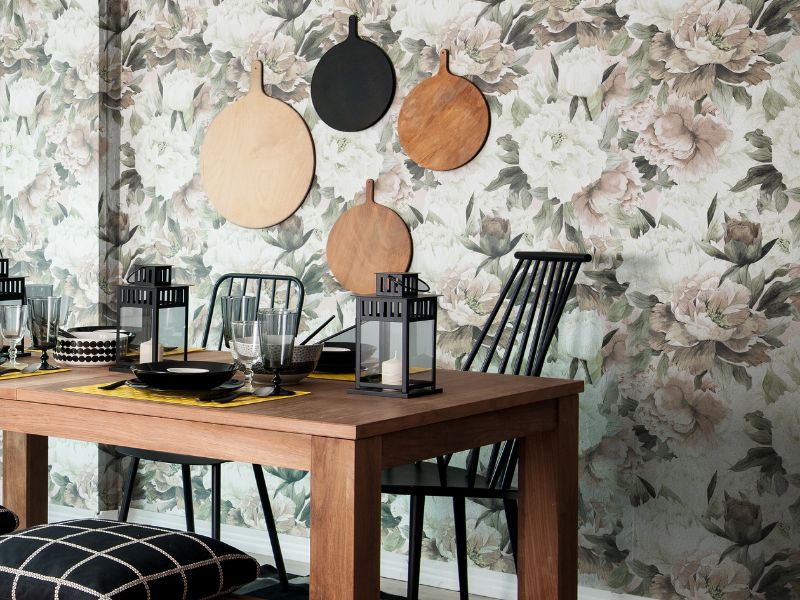 For some years now, the world of architecture and decoration has seen a massive comeback of the wallpaper trend. Something quite easy to understand, just because wallpapers represent a practical and economical decorative solution for boring walls.
In addition, today, it is possible to find in the market endless options of patterns to suit all tastes, and pieces, such as mid-century modern peel and stick removable wallpapers, that offer a very practical and simple installation, which can be done by yourself, eliminating labor costs.
Keeping in mind all the advantages and mid-century modern wallpaper options on our website, in today's text, we have gathered tips on how to apply the wallpaper trend in different rooms of your house. Check it out!
Texture wallpapers
One of the great highlights of mid-century modern wallpapers is the textured designs. If you have always dreamed of having a brick wall or wanted to replicate the look of wood on your walls, these textured wallpapers are the solution.
They can be found in different colors reproducing distressed wooden slats, rustic-looking brick walls that can be used as a feature wall in the living room, and even realistic prints that reproduce a stone wall, which is perfect for decorating your bathrooms and outdoor areas!
Nautical style
Homesickness for the sea is common among many people, and a great way to ease this feeling is to bring the freshness and tranquility of maritime settings and related elements to the walls of your home.
You can do this through nautical-themed wallpapers, options that usually bring in their prints, marine animals, different shades of blue, waves, and maritime elements such as anchors, starfish, shells, and so on. But, of course, the bathroom and bedrooms are the best rooms to apply these models. Check out our new arrivals and see the latest trends in mid-century modern nautical wallpapers!
Floral wallpapers
Very versatile, wallpapers with prints of plants and flowers can be used in any room. This includes bedrooms, living room, dining room, kitchen, bathroom, and even laundry room. In the bathroom, try applying them on the wall behind the mirror, and in the living room, use them on the wall behind the sofa for a surprising effect on the decoration.
Delicate and romantic, they can be found in options with a neutral base and plants drawn in thin lines, or super colorful backgrounds with flowers filled in solid colors. To find mid-century modern wallpapers with flower prints and the many other styles we are featuring, you have the option to shop by style on our website. Check it out!
Basic wallpapers
In today's decoration, the mid-century modern wallpaper reinforce the idea that less is more. With them, it is possible to escape from the usual white walls without necessarily having to venture into very striking colors and patterns. So you can use them to add texture, shape, and a bit of color to offices, bedrooms, dining rooms, and even a feature wall in your foyer.
And if you are still having trouble defining which style of wallpaper fits best in each room, you can shop by room on our site and find several inspirations designed to be used in those particular spaces.
Geometric wallpapers
To create a mid-century-inspired home, you need to consider using geometric wallpapers. Current and easily adaptable, these models bring elegant patterns that add much to the aesthetics of environments, from a hallway wall to the highlight wall of your living room.
They perfectly complement a modern design within a contemporary kitchen, bathrooms, bedrooms, and dining rooms. Choose whether you prefer arrows, connected lines, triangles, or circles within your decoration.
Wall murals
Going a little beyond mid-century modern peel-and-stick wallpaper, another fantastic decor alternative for your walls is wall murals. With a slightly different proposal from printed wallpapers, they bring real-life scenarios on a large scale, such as landscape views, nature, animals, floral, and abstract options.
The main advantage of these items is the natural feeling of looking at the seabed cities, landscapes, or even cut-outs indoors. With this, the great idea is to apply them in your home office room, to serve as a visual resting point where you can catch your breath, and feel calmer and more connected just by looking at the wall. And the same goes for the bathrooms!
These were our ideas on how to use the mid-century modern wallpapers trend in your home! If you like these tips, share them with your friends, and for more inspiration and decorating suggestions like these, keep checking our blog posts!