Office wallpaper ideas: will change how you feel about work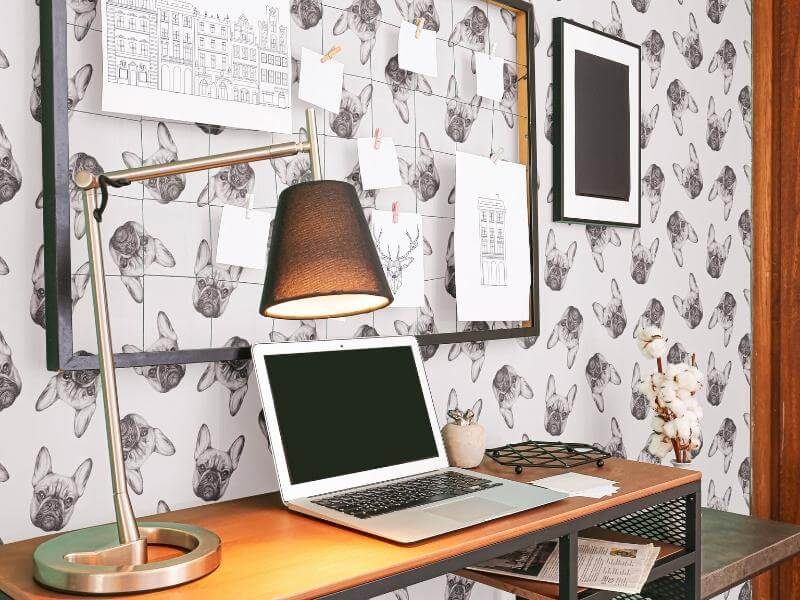 Bring your work home, not your workplace blues! Spending a little more time on your home office decor will go a long way in keeping you focused, inspired and productive. When decorating your home office, walls are the best place to start. From bold prints that energize you, to subtle visual textures that add warmth, we've brought you a bunch of stylish office wallpaper ideas today.
Before we go into the details, here's a pro tip: don't fall for the same old office decor stereotypes. There's more to workplace interiors than blank walls, washed out colors and standard layouts. Working from home gives you the freedom to explore your own brand of creativity, so unleash colors, textures, prints and patterns that best echo your personality. Thanks to peel and stick wallpaper, it's easier and quicker than ever to redecorate your office when the mood strikes.
Here are some styling ideas to get you going.
The freshest office wallpaper ideas for your 2022 workplace
1. Pets for company with
animal print
An instant fix for Monday blues, pets are always a welcome sight in your home office. Instead of stern geometrics or plain white walls, explore office wallpaper ideas that involve cheerful prints of cats, dogs, birds or sea creatures. Some of the designs in our animal wallpaper collection are surprisingly compatible with workplaces. They feature monochrome designs in stable neutral hues to balance their fun, quirky graphics.
With our stylish, durable and easy-to-install peel and stick wallpaper, photorealistic brick walls take zero effort to "build." Instead of boring office layouts, try a classic look with metal bookshelves, leather furniture, and vintage desk accessories enveloped in charming red brick warmth. A cozy office space like this will easily double up as your recreation area or reading nook when you want to give those spreadsheets and Zoom calls a break.
3. Time to smell the
roses
Does floral decor truly belong in an office environment? Well, if your office and living space are under the same roof, pretty floral prints can serve multiple functions. They can not only make your working hours easier to navigate, but also keep your home interiors harmonious and coordinated. This year, we're exploring seamless floral compositions with a vintage hand painted look for a classic feel to your study.
Replace the "cubicle feel" with that of a shabby chic studio. Some of the trendiest home office wallpaper ideas this season involve distressed wood elements for some much needed warmth in your workplace. Our textured peel and stick wallpaper collection offers beautiful weathered wood designs that are a perfect match for all-white or warm neutral furniture and fittings. Look for grey undertones to make your faux wood office walls even more versatile. Our latex saturated wallpapers flaunt a lovely canvas texture finish that further enriches their photorealistic look.
Of late, we've been quite obsessed with the nautical theme and what it can do for living spaces. Turns out, nautical peel and stick wallpaper can work wonders for home offices. Strike a perfect balance between polished and playful with a composition made up of oceanic or maritime graphics and subtle neutral or pastel colors. The combination of quiet hues, lively arrangements and a geometric style makes this office wallpaper idea a hit in just about any kind of workspace.
Travel themed wallpapers are great for home offices, reminding you that your next vacay isn't too far away. This year, we've fallen in love with wall coverings that blend the travel theme with a vintage feel. Try working in a retro home office this season with a charming peel and stick wallpaper that takes you back to your favorite cities and the glamor of the good old days.
7. Take
 

geometry

 

for a bold spin

Looking for office wallpaper ideas that offer something more than simple geometry? The solution may be closer home than you think! The great thing about geometric prints and patterns is that they can vary in style from conventional to quirky. For offices, we are quite fond of dramatic dark-toned chevrons that perk up their surroundings while retaining a basic sense of structure and symmetry. If quiet colors are more your thing, some of our chic geometric designs break away from the classic chevron look to assume a more playful, ikat-print feel.

Need a reminder to have fun while you work? A wall covered in cool illustrations might just do the trick. Feel light, happy and focused with doodles of animals, cityscapes and nature to keep you company. Artistic and upbeat, these black and white office wallpapers will spark all kinds of creative ideas! Plus, you can style them with furnishings and accents in your favorite styles and colors.

There could be a million reasons keeping you from being productive at work. Don't let dull decor be one of them! Try out these office wallpaper ideas and let us know what you think. Our entire collection is PVC-free and designed to keep your indoor environment safe and toxin-free. Find out more about what makes our wall coverings ideal for your home.