The best wall murals for bedrooms this season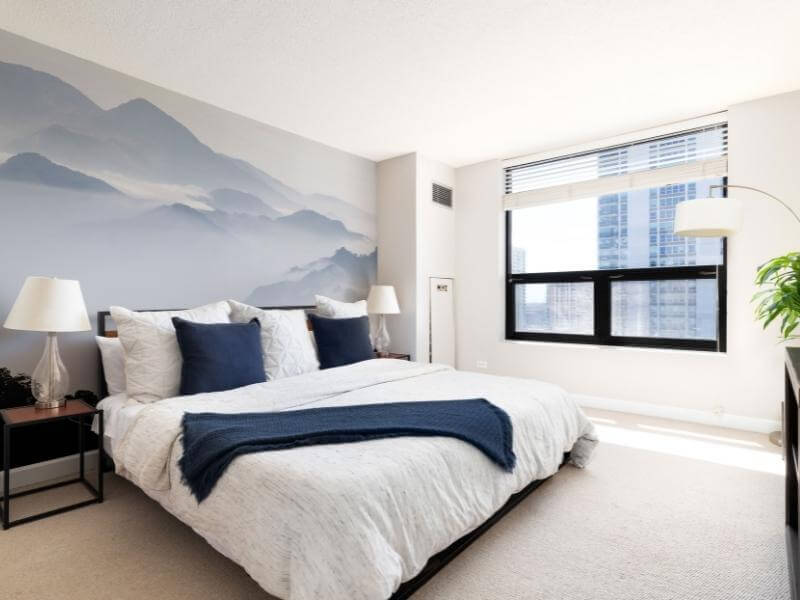 Spending a lot of your time indoors doesn't mean that you have to feel trapped all day. Taking a few small steps can still quench your wanderlust to some extent, and give your days a makeover. Something as simple as getting a wall mural for your bedroom, along with the right lighting, can take you to another place every time you lie down on your bed. A peel and stick mural is a great way to make an impact – without the whole cost, time and challenge of remodeling your space.
You can choose from the dreamy buzz of Manhattan, to the scenic calm of a Japanese park, and create the ambience that makes you happy. Just choose what you would like your space to feel like, and then leave it to us to have it safely delivered to you. What makes our removable wall murals a great choice for your bedroom is not only their easy DIY installation, but also their safe, non-toxic design.
Here's what the right wall mural can do for your bedroom
1. Take you on a voyage to the Alps
If you miss spending time in the great outdoors, this stunning wall mural will transform your bedroom into a scenic campsite. Get the feel of sleeping on the lakeside in Europe with the Alps overlooking from amongst the clouds. The open landscape and calming blue-green tones of this mural will relax you as you look to unwind. Light a lamp at night, and have your campfire beside the lake!
2. Create a winter wonderland in your bedroom
For those who can't get enough of winter, this fabulous peel and stick mural will evoke all the quiet beauty of a snowy riverside, with the bonus warmth of blush tones! Like all of our removable murals, this one flaunts its life-size, photorealistic print with a rich canvas texture to enhance its appearance. The combination of white, blue, pink and purple notes of this design makes it picture perfect and practical for bedrooms decor.
3. Cover your wall in urban pizzazz
The perfect wall mural for bedrooms needn't be limited to serene scenery and nature-inspired imagery. For those who like their decor to be dynamic and urbane, stylish cityscapes can work wonders in just about any space. This design, for instance, ensures that your bedroom has a ringside view of the Manhattan Bridge against a sunset sky.
With colors ranging from blue to pink and orange, this composition has a versatile visual quality. Pair it with industrial decor, or go for something cozy and Bohemian – this trip to the Big Apple is perfectly tailored to your preferences!
4. Set a meditative mood
A mountain setting, a Buddhist shrine, cherry blossom trees and filtered sunlight – you needn't look further than this combination when relaxation and rejuvenation are on your mind. Bedroom wall murals can make a statement in more ways than one. They can certainly rev up the energy and vibrancy of a setting, but you can also leverage them to amplify other qualities like balance and serenity.
With a meditative mural such as this one to set the tone for your bedroom decor, you don't have to do much to complete the look. It will work with the simplest of furniture and color palettes.
5. Celebrate rustic charm
There's plenty that wall murals can do for your bedroom besides capturing stunning imagery from your favorite destinations. We also love how they allow us to celebrate the warmth of natural materials. If you like the rustic decor style, consider this peel and stick mural featuring stacked wooden logs in light brown tones. Surprisingly versatile, it can be styled with vintage wooden furniture and gilded accents for a classic feel, or with minimal metal fixtures for industrial pizazz.
6. Turn a wall into a work of art
Whether you love to collect art or simply admire it, an artistic wall mural for your bedroom is always a good idea! Try some of our stunning abstract designs, featuring superior quality prints that ensure stunning colors and details. When choosing an art-themed wall mural, it's best to avoid glossy finishes and go for rich matte surfaces instead. WallsByMe murals are all latex saturated, offering a canvas-like texture that beautifully complements vibrant and artistic compositions.
7. Treat you to the sight of evergreen foliage
Lush forest scenes are among our all-time favorite wall murals for bedrooms. There's simply no match for their innate blend of tranquility and energy. They're also extremely versatile and ready to work with pared-back monochrome elements, or with cozy pastels and vibrant prints. If you haven't yet made up your mind about botanical wallpaper for your bedroom, we strongly recommend transforming a single wall with the help of a mural depicting foliage.
Still mulling a bedroom makeover? Get things started with a stylish wall mural for your bedroom. Once you've zeroed in on a style or design you love, do remember to check out our easy installation guide to ensure a picture-perfect finish!