8 of the Cutest Ideas for a Baby's Room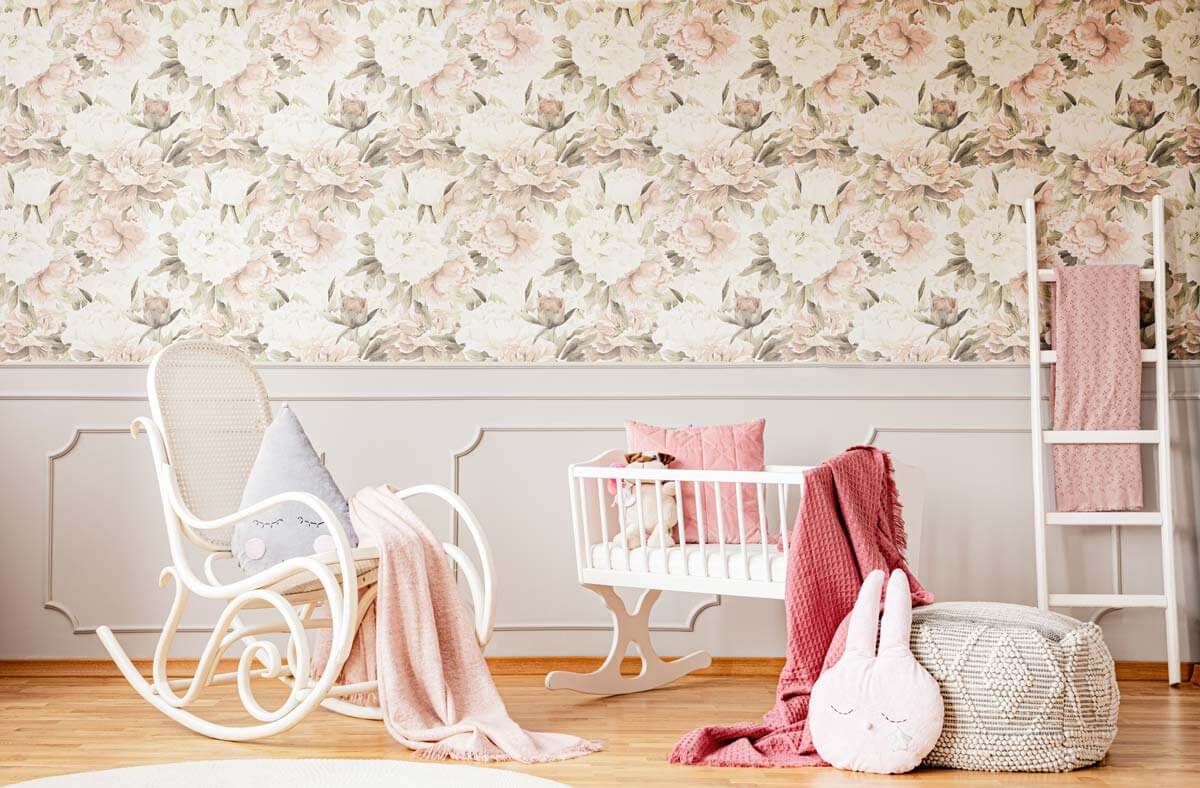 When you love them to the moon and back, wanting to make their first home perfect is only natural! As a parent, decorating your tiny tot's bedroom or nursery is one of the most enjoyable and rewarding experiences ever. You have the license to get creative, work with vibrant colors and cute accents, and craft spaces perfect for hanging out with your little one.

Having said that, it's natural to get confused while looking for ideas for a baby's room. Good nursery decor needs to be both picture-perfect and practical. It needs to give the little one a warm welcome and help them engage with their brand new world. It also needs to be a well-organized, safe and toxin-free environment where daily activities like changing, feeding and playing can happen smoothly.

Do all these functional requirements take away your creative freedom? Not at all. Smart choices such as our PVC-free peel and stick wallpaper, for instance, can help you turn your nursery into a dreamy little world that is perfectly safe for your cherub. To get you started, here are some of the cutest ideas for a baby's room that you can implement in a jiffy!
Adorable ideas for a baby's room that are easy as ABC
A gallery wall
They're always up to something adorable, and they grow up way too soon. Document your baby's journey and liven up their bedroom with a cute gallery wall full of their photos. Striped peel and stick wallpaper in cheery colors will make an excellent backdrop for this photo story, allowing you to add frames gradually without worrying about the composition looking incomplete.
Stenciled animals
Though most collections of ideas for a baby's room include animal-themed wallpaper, animal prints and patterns are anything but cliché. Our freshly updated selection of PVC-free removable wallpaper features a variety of 'stenciled' designs with a minimalistic, black and white look. These animal drawings will breathe life into your nursery decor without overwhelming it with color. Speaking of color, these designs can also serve as large-scale coloring books for you and your little one!


Basic shapes
A fun way to introduce your baby to shapes and colors is through geometric peel and stick wallpaper. Basic shapes like triangles and circles, or even cheerful chevron prints, serve as a welcome change from animal and floral prints. Our high-quality removable wallpaper does not damage your walls or paint when removed, thus giving you the freedom to switch to a new set of shapes every season!
Adorably abstract
Abstract wall coverings are usually thought of as serious designs for sophisticated living rooms, but they have a role to play in nursery decor as well. Well-chosen abstract designs that build on basic shapes and vibrant colors are among our favorite ideas for a baby's room. We love how they keep things cute and stylish at the same time.


Baby-friendly black-and-white
Nursery decor doesn't necessarily have to be colorful. If you prefer quiet, monochrome spaces, we have plenty of delightful animal and floral wallpaper options in charcoal shades. Even geometric patterns in black and white aren't a strict 'no' for nurseries. You can always add a sunny edge with bright yellow accents.
Something magical to gaze up at
Babies spend a lot of time lying down, so you need to give them something interesting to look up at. Vibrant pendant lights and fun mobiles are great ideas for a baby's room. However, if you really want to step up your game, we recommend jazzing up the ceiling. A great thing about our peel and stick wallpaper is that it's easy to apply on a wide variety of surfaces, including those that are horizontal. Starry skies or scenes from outer space are excellent options, though you can also try something more off-beat.

A cute country retreat

Why limit your nursery decor to large-scale floral prints and colorful animal-themed designs? Expand your range of ideas for a baby's room to include chic shiplap or brick textured wallpaper. Boho-chic or a farmhouse look can work wonders for your little one's room, giving it a cozy cabin vibe where reading bedtime stories is a real treat.

Nature-inspired walls

A nature-themed nursery is a great place to grow up in. Use lush botanical wallpaper to create a tropical paradise for your little angel, or plant a whimsical forest with some of our light-toned designs. The latter will also create a dreamy home for cute animal-themed murals, furniture or accents.


Which of these ideas for a baby's room is your favorite? Let us know, and get started right away by shopping from our delightful range of PVC-free, non-toxic removable wallpaper.