Make it pop! Colorful interior design ideas that work for any living space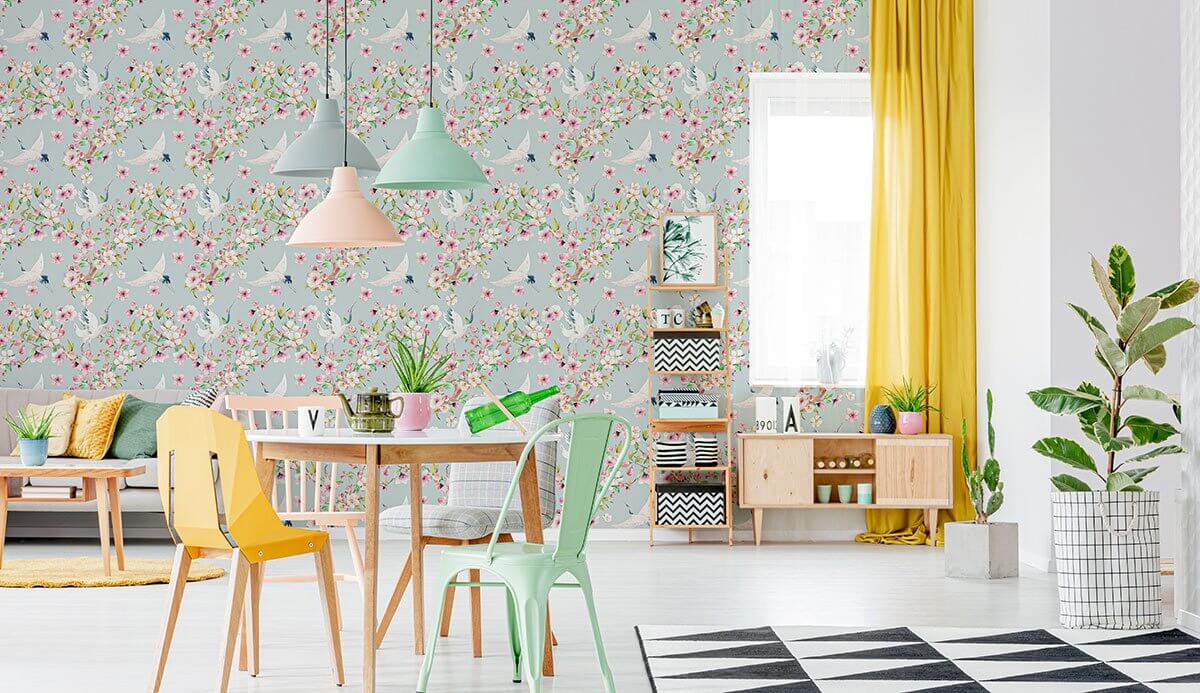 Rainbows and sunshine sound great… until you try to feature them in your decor. No design element is quite as powerful as color when you're looking to make a statement, set a mood, or create an ambiance. Despite the many colorful interior design ideas you can find online, you may think decorating with color is not for the fainthearted. Think again!
It's true that you need some understanding and practice to get comfortable with bright and bold hues. However, with well-chosen colorful home decor ideas and beautifully crafted peel and stick wallpaper, you can easily speed things up.
Decorating with bold color tones can be more challenging than handling more forgiven neutrals or pastel. That bright orange paint you love can quickly turn what could have been a vibrant space into a fiery disaster if overdone or used in the wrong light. That beautiful blue statement couch you've been meaning to show off could end up as an eyesore because its backdrop was a shade too dark. 
Luckily, there's a super quick way to get past these challenges. You can even get existing prints and patterns to help you out. If you've been looking to move on from whites and grays and need colorful home decor ideas, our PVC-free removable wallpaper is a great place to start. Think of them as 'pre-assembled' color collages that let you add a vibrant edge to your living space without doing the legwork
Colorful interior design ideas involving peel and stick wallpaper
Meet and greet with color
Using generous doses of color in your home's entryway can feel like taking a risk. But it's quite the opposite, actually. Entrance foyers in modern apartments tend to be constricted spaces with little room for freestanding furniture or accessories. Here, walls are your only canvas, and we recommend filling them with color. 
There are countless colorful interior design ideas for entryway decor. You can easily create a springtime feel with floral peel and stick wallpaper in happy pink and green tones. Or a summary flair with orange or yellow geometric wallpaper. And if realistic is more your style, how about a dramatic faux red brick wall to let your guests know they've stepped into boho-chic heaven?
A mix of prints
Afraid of overwhelming the senses with color? A simple solution is to use prints of different scales and styles. Many of the colorful interior design ideas available online will suggest this. The idea is simple – to avoid filling large stretches of a wall with the same color, you would break things up via intricate prints or patterns that balance bright and muted tones. For example, if you already have your heart set on a large-scale floral feature wall, you can balance things using damask or small-scale botanical prints in muted colors. You can also use chevrons, stripes or other geometric peel and stick wallpaper designs to even things out. Try and include complimentary colors (like orange and purple or blue and yellow) in this composition to create a sense of order amid the happy chaos!
Take a whimsical trip
Even the best collections of colorful home decor ideas can't convince everyone to go full speed ahead with vibrant walls. And that's perfectly fine. There are alternative routes you can take to cleverly introduce color to your space without drawing too much attention. One of our favorite ideas involves the use of surreal or artsy peel and stick wallpaper to create a whimsical effect. 
In our collection, you'll find numerous delightful compositions featuring birds and botanicals in a lovely hand-painted style. We've also given some of our geometric removable wallpaper a whimsical spin. These typically feature muted or pastel colors that add a cheerful effect without getting too intense. Soft pinks, blues, and greens are common in such exploration.
Let nature do it for you
The last suggestion on our list of colorful interior design ideas may be a bit of a shortcut, but it works like a charm! Go green, and feel free to go overboard with it. Our vast selection of tropical and botanical peel and stick wallpaper allows you to create an urban jungle right where you live! Flamboyant palm leaves in intense green shades will look great in the heart of your living room, especially in the company of actual indoor greenery. 
You can also take the middle path by interspersing these vibrant botanical prints with soft floral designs or stretches of basic geometry to create an eclectic, nature-inspired setting. Damask prints are great for this purpose, keeping things natural yet structured.
Have these colorful interior design ideas got your creative juices flowing? Get started with colorful peel and stick wallpaper right away! Shop now, or order a sample to see how it fits in your living space.