Beyond The Wall: 5 Creative Uses Of Peel And Stick Wallpaper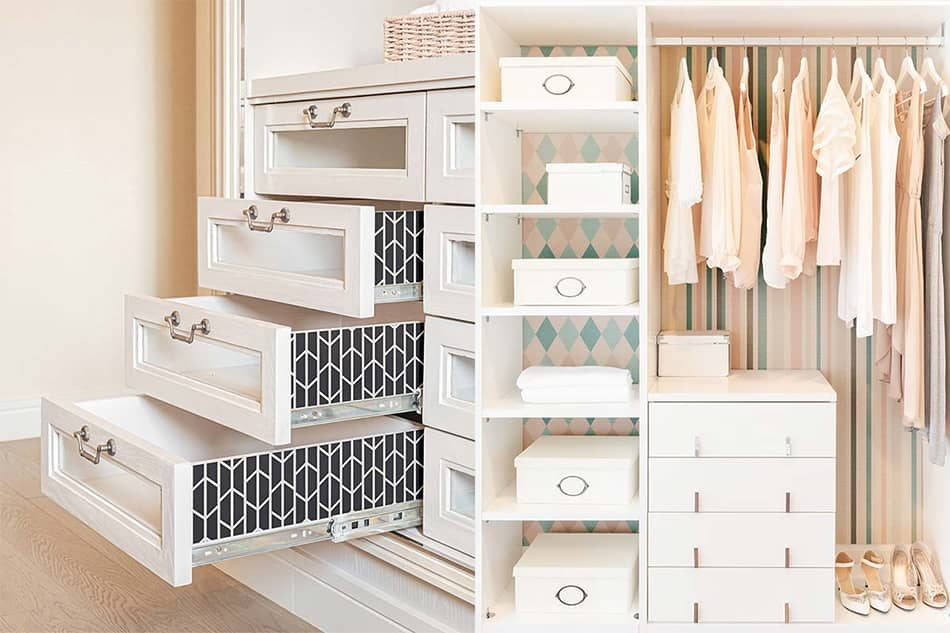 Looking for removable wallpaper ideas? There are many perks of using peel and stick wallpaper. And not all of them are limited to walls. Turns out, removable wallpaper is more than just a convenient wall treatment. In fact, it's an indispensable decor tool for renters, homeowners on a budget, and people who tend to move often. Check out these out-of-the-box ways of using removable wallpaper DIY to transform your home in ways you couldn't have imagined!
1 - Create a dramatic ceiling.
The ceiling often ends up being the most neglected component of a room. And for good reason, because it can be tricky to decorate your ceiling without weighing your room down. Thankfully, there's removable wallpaper to save the day! Although removable wallpaper DIY is a project to any area of your home we need to warn your ceiling would be a higher challenge in the literal sense of the word. Not only it demands some physical strength and ability to do it as it also needs to be a smooth flat painted surface- a luxury of not too many. However, if you can accomplish it will look amazing! Want to create the perfect setting for that gorgeous chandelier in your living room? Or just need something interesting to wake up to every morning? Stop by our textured wallpaper collection to try out a new look for your ceiling. A concrete print for a suave modernistic vibe, perhaps. Or a rich fabric print for a cozy Bohemian ambiance. You can even go all-out adventurous and cover your ceiling with Moroccan tiles – minus any installation hassles, of course.
2 - Bring that bookshelf back to life.
Sometimes, you don't even need to buy additional wallpaper to jazz up your room. There's a lot you can do with the 'leftovers' from your old wallpapering project. Adding character to a bookshelf or closet, for example. This would be a perfect removable wallpaper DIY to first-timers.
 Introduce small pieces of peel and stick wallpaper to the back of your bookcase, and watch these otherwise dead spaces come to life in an instant. Happy-go-lucky floral patterns, chinoiseries, and stripes or plaids would be a great fit for this purpose. Find your favorite design in our removable wallpaper range. And feel free to shake things up as often as you like, because our high-quality self-adhesive products will not damage your paint or walls when removed. It does not matter if you remove 5 days or 5 years later. That is right. It will NOT damage your wall. 
3 - Fancy up your furniture.
Bored of looking at the same old pieces of furniture?. Make them pop with the help of some stylish peel and stick wallpaper. Here is another removable wallpaper idea. Think bold floral patterns to infuse baroque elegance into a no-frills cabinet. Or cheerful stripes to add some quirky charm to your standard-edition desk drawers. You won't need a lot of wallpaper for these quick DIY furniture makeovers. So if you're looking to buy one of our PVC-free wallpapers for your next redecoration project, hold on to the scraps after you're done and put them to use the next time you feel like freshening up your furniture!
4 - Peel and stick your tiles!
Removable wallpaper can be an excellent way to brighten up your kitchen or bathroom. Instead of investing in new tiles for your kitchen's backsplash, for instance, you can use your favorite peel and stick wallpaper as a catchy alternative. Installing wallpaper will be much quicker and easier than putting up tiles- a perfect removable wallpaper DIY. Plus, you'll have way more designs to choose from. Try some of our vibrant terrazzos, geometric prints, or Moroccan-inspired floral designs as your next kitchen backsplash. You can mount some plexiglass over the wallpaper to make it waterproof, and then keep changing it every time you're in the mood for something new.
5 - Frame your fireplace.
This is our last removable wallpaper idea for a fireplace that doesn't quite act as the focus of your room? Show it off by wrapping it in some bold wallpaper. Try a brick or plaster design from our texture imitation wallpaper range to create a charming distressed look and bring in a cozy countryside vibe. Or if you prefer something offbeat, frame your modern ethanol fireplace with a sleek geometric or whimsical floral pattern. We've recently added a whole bunch of designs that'll fit the bill beautifully. Plus, our entire wallpaper collection is printed with non-toxic inks, keeping your living space free from harmful chemicals.
Ready to get creative with your removable wallpaper DIY? These were just a few ideas to get you started, but feel free to take your own designs for a spin! From revamping your doors to creating an attractive headboard for your bed, there is any number of uses for high-quality fabric wallpaper. Head on over to our fabric removable wallpaper collection to get started.