Romantic Rooms: 5 Routes To A Love-Themed Living Space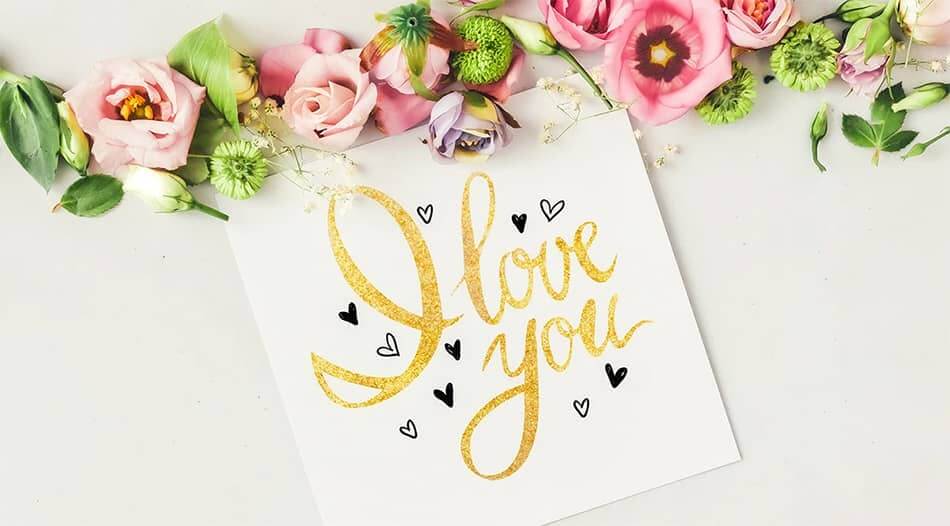 A full-fledged home makeover just for Valentine's Day? Sure, it may sound overkill at first. But with a few clever design moves, you can rev up the romance and also keep your living space fashionable for the rest of the year! So before spending all your money on chocolates and heart-shaped cushions, check out this collection of romantic décor ideas that we've put together for you. Involving gorgeous removable wallpaper, easy-to-install fixtures, and clever plays of color and texture, they're good for V-Day and beyond.
Don't pluck the flowers!
You can never have too many flowers during the most romantic season of the year. But this time around, make sure you also stock up on vines, ferns, and succulents. Win hearts with botanical extravaganza as your decor theme, and you'll be thanking yourself when spring comes around! Bold, exaggerated floral prints and patterns are all the rage this year, and now's the perfect time to bring them home. Go for deep, dramatic hues or in subtle, surreal shades – there are no rules when it comes to February and flowers.
Invoke classic Baroque elegance with timeless floral wallpaper, or give those petals and leaves a quirky contemporary spin. We suggest stopping by our gorgeous peel and stick wallpaper collection featuring both timeless and new-age floral designs. Easy to apply and remove, these PVC-free wallpapers won't just add a romantic flair to your bedroom – they'll also ensure a great finish thanks to their high-quality construction.
Tired of pink? Meet its trendier cousins.
Had just about enough of the red-and-pink duet this season? For your romantic redecoration exercise, step off those textbook hues and go for bold violet or berry tones. These lavish shades will dress up your living space in style, and create a magical ambiance for romantic evenings at home. There are plenty of purple-toned designs in our peel and stick wallpaper selection. They'll pep up your rooms in no time, and work like a dream with light monochrome furniture and sparkling metal accents.
Not a fan of deep purple hues? You can also replace classic pinks with a light blush, rose or lilac tones. These barely-there colors won't just partner your romantic accents and furnishings. They'll also pair up with whites and neutrals to keep your furniture company all year round. Still unsure? Check out our removable wallpaper collection to discover how much these gentle blushing tones can accomplish.
Give the moody blues a chance.
2020 is the year of blue. Pantone has already declared it by picking Classic Blue as Color of the Year. And the world has realized that there's a lot of warmth to be found in that cool, calming hue. Deep blue walls will instantly hit it off with soft, cushiony furniture, ornate chandeliers, and violet or crimson accents. Plus, a blue backdrop is a great way to show off those red or pink-themed Valentine's Day decorations you're planning to put up. The blue-themed designs in our self-adhesive wallpaper collection will give you more than a few ideas; check them out!
Add a fabric flourish.
Need a cozy haven you can curl up in? Layer your décor with fabrics to create softness, depth, and laid-back loveliness. This is a great time to invest in some high thread count sheets, chic rugs and throws, and soft cushions to accentuate your upholstery. And while you're busy wrapping your room in the warm embrace of fabrics, why not take a step further and consider fabrics for your walls as well?
Here at WallsByMe, our entire removable wallpaper range is made of high-quality peel and stick wallpaper printed with non-toxic inks. Choose any of our designs to create a rich tactile finish that is leaps and bounds better than vinyl wallpaper, and a PVC-free environment that's safe for you and your loved ones. We particularly recommend our textured wallpaper collection, in which you'll find a range of unique and irresistible fabric prints that will cozy up your room in an instant.
You can't go wrong with eclectic elegance.
Love knows no rules, so feel free to think outside the box when you're decorating for the romantic season. Set up whimsical chinoiserie prints with suave plaids, and monochrome backdrops with vibrant upholstery and drapery. And top things off with metallic accents to add some extra sparkle to your V-Day themed cushions, lamps and centerpieces.
Ready to give your home a romantic makeover? Our lovely self-adhesive wallpaper collection is the perfect place to get started. These high-quality fabric wallpapers are incredibly easy to apply, and will not damage your walls or paint when removed. Plus, you needn't worry if you happen to fall in love with more than one design. Order in a sample to make sure it's a great match for your room!