Boys and girls room wallpaper: inspire yourself!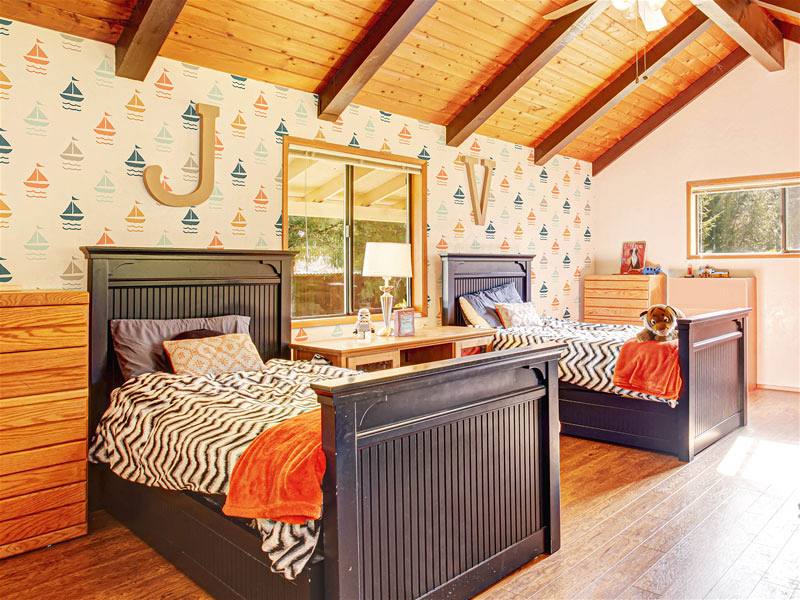 Being a child is wonderful! That's because little ones have a creative outlook on everything, including, of course, decorating their own room. 
That's why today we created this content to help you, mom and dad, to transform your son or daughter's room with super fun wallpapers, so kids can enjoy their day to day life with much more fun.
Girls room wallpaper
There are many inspirations to decorate your little girl's bedroom, so Walls By Me has selected the most beautiful girls room wallpaper, providing images that will inspire your next moves! These bedroom designs are modern and cute - so take a look to learn how you can turn a room into a girl's dream room:
1. Floral wallpaper
Yes! Floral themes are always a good choice, and many girls use it in their bedroom. But above all, it is important to think our way to express ourself into wallpaper stylish, so please, use them to help you create a decorated room that looks just like your girl!
2. Red, pink and purple wallpaper
Since time immemorial, red, pink and purple have shaped our image of romantic, feminine and pretty decor. These colors have a remarkable ability when it comes to setting the mood in a kids room. Their pastel shades have a graceful charm, while their deep, bold tones are energetic in every way. Choose these options for the girls' room!
3. Chinoiserie wallpaper
Finally, harmful and relaxing chinoiserie wallpapers are among the top trending themes. These vibrant and creative styles bring a touch of joy to the walls, instantly transforming them. Incredible!
Boys room wallpaper
The boys' room needs to be a very creative and energetic environment. Therefore, selecting the right peel and stick removable wallpaper helps to create a lively and charming space. Take a look at our suggestions that are real trends!
1. Animals wallpaper
These style designs are colorful and composed of animals, like dogs, birds, reptiles, dinosaurs and all the creative figures that exist in the universe of boys. The results are pretty amazing!
2. Blue and green wallpaper
Blue and green palettes are classics in boys' room decor. Blue is a color that enhances creativity, while green, stimulates contact with nature, inspiring tranquil rests. Select these wallpapers for great inspirations!
3. Nautical wallpaper
There is nothing like offering the little ones the feeling of being on a little boat at sea. Nautical wallpaper stimulate interest in travel and new discoveries, important actions for children's development. Check out these opportunities!
How to install boys and girls room wallpaper?
Are you looking for wallpaper a room but are afraid of failing? Don't worry, following these simple tips you will make a perfect installation and have a lot of fun. It's simple and very effective:
Before hanging the wallpaper, prepare the wall by rubbing a microfiber cloth with isopropyl alcohol;

Place the wallpaper face down on the floor. Start applying the wallpaper to the top corner of your wall vertically;

After installing the first, repeat the previous steps with the remaining panels; make sure this time you overlap pannels about ½ inch matching the design. 

It's time to cut the excess. Always use a sharp blade, it will be much easier and necessary to ensure accuracy. Only cut the access after applying all the panels. 
How to install wallpaper: tips and tricks
For more information, about girls and boys room wallpaper, you can check out Walls By Me FAQ page, watch our video tutorials, email us or give us a call. That's right! You can call and talk to a real person because we have a great customer service team here in the sunny state. No bots, no chat, no automated systems, just real people ready to help. Fast and easy!
Our blog is always fresh and trending home decor content, so don't forget to subscribe to our newsletter and you won't miss any news. Until the next talk!