Redecorating Tips In 2021: Top 10 Makeover Tips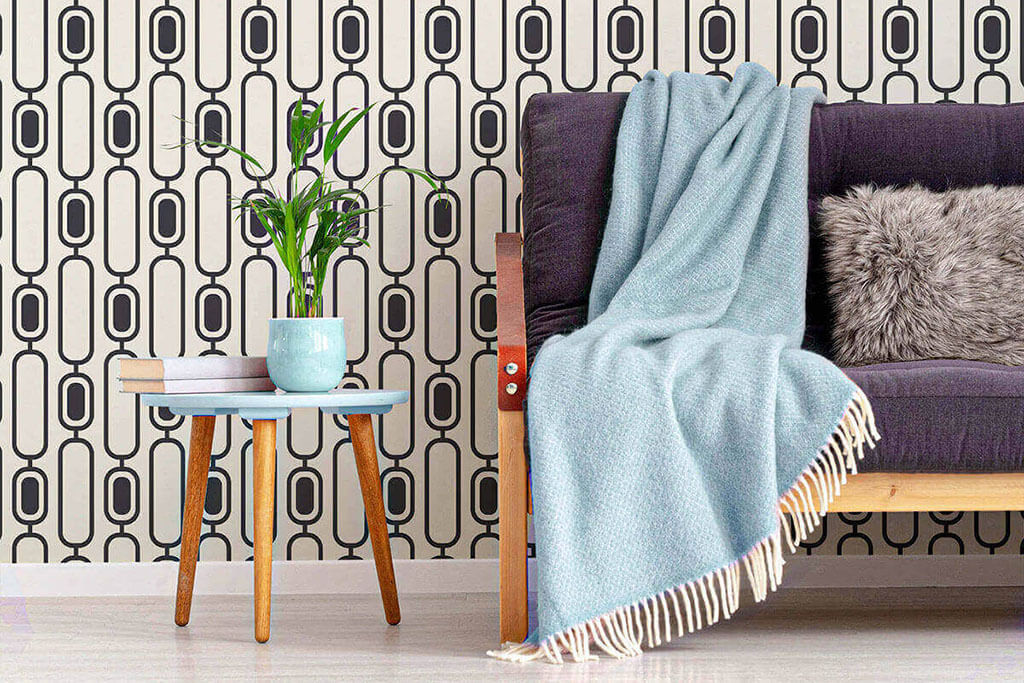 If 2020 was mostly about coming to terms with our new homebound existence, 2021 is about enhancing it. As the definition of home expands to include work, relaxation, and everything in between, home decor has also acquired some new facets. If you're looking for redecorating tips that are in line with your stay-at-home lifestyle, look no further. Here are our favorite ideas for a living space makeover in 2021.
10 redecorating tips that'll make you want to stay home
Grey Ikat Peel and Stick Removable Wallpaper
1. Energize your kitchen.
Let's face it – healthy, home-cooked meals are here to stay. Since you will be spending more time in the kitchen, why not make it a welcoming space? Our first redecorating tip is to brighten things up with a cheerful backsplash, or give your cabinets and shelves an upbeat makeover. This won't require retiling or carpentry. Our removable wallpaper will help you spruce things up in no time!
Orange Terrazzo Basic Peel and Stick Removable Wallpaper
2. Carve out a home office.
If you've never had a dedicated workspace at home, it's time to make one now. Don't have the luxury of a separate office room? Fret not – we have the perfect idea for a living room makeover. With some well-chosen wallpaper, extra storage, and focused lighting, you can easily create a working area within your room.
Black Striped Peel and Stick Removable Wallpaper
3. Explore retro ideas for a living room makeover.
Need a sure-shot way to add character to the most prominent room of the house? How about looking back fondly at the good old days, while also keeping things quirky and forward-looking? Combine our retro range of peel and stick wallpaper with clean contemporary graphics and palettes to craft an enticing ambiance.
White Forest Peel and Stick Removable Wall Mural
4. Bring home your favorite vacation spot.
Wish you could travel worry-free once again? Until that becomes a possibility, explore our gorgeous range of peel and stick murals that can turn any standard wall into a scene from the beach, mountains, or a well-loved cityscape. If you prefer to keep things subtle, go for our botanical wallpapers inspired by landscapes ranging from snowy hills to tropical jungles.
White and Blue Bird Nautical Peel and Stick Removable Wallpaper
5. Swap out those boring bathroom tiles
You'll be surprised by your bathroom's contribution to your home's style quotient. Our list of redecorating tips won't be complete without a mention of offbeat bathrooms crafted using nautical, Mediterranean or woodsy themes. Explore stunning wallpaper options that prove that there can be more to bathroom walls than plain ceramic tiles.
Beige Floral Floral Peel and Stick Removable Wallpaper
6. Revamp your utility spaces
In addition to the primary rooms of your house, explore ways to brighten up 'neglected' spaces like laundry areas, pantries, storage rooms, and so on. These areas needn't be purely functional. Some chic wallpaper featuring subtle geometrics or small-scale botanical prints could be just what they need for a style boost.
Navy Fish Nautical Peel and Stick Removable Wallpaper
7. Don't hesitate to be a kid at heart.
Break out of the mold as you go about exploring redecorating tips for your home. Allow happy-lo-lucky geometric prints or a cheerful nautical or space theme to breathe life into your living space. Large spaces like living rooms offer great opportunities for such experiments. If you're exploring ideas for a living room makeover, try introducing youthful graphics amid textbook stripes or classic florals.
Grey Leaves Peel and Stick Removable Wallpaper
8. Use feel-good florals
Floral peel and stick wallpaper isn't just about channeling old school elegance. We offer a delightful range of fresh, modern floral designs that are perfectly in sync with contemporary tastes. Add chic charisma to any setting with large-scale flowers rendered in black and white, or whimsical botanical drawings in subtle pastel shades.
Blue Birds Peel and Stick Removable Wallpaper
9. Give animal prints a chance
Of late, we've rekindled our love for animal prints and patterns. Contrary to popular belief, animal themed wallpaper doesn't just belong in children's rooms or overly informal spaces. Some of our clever yet classy designs will be right at home in living rooms, home offices and bedrooms. This redecorating tip is especially handy for pet lovers!
White Ivory Faux Shiplap Texture Peel and Stick Removable Wallpaper
10. Surround yourself with natural materials
Staying home for extended periods of time, it's natural for your senses to feel deprived of all the sights, sounds and textures you once encountered on a regular basis. Make the setting around you richer in terms of visual texture, through our textured peel and stick wall coverings. Whether it's a rough-hewn stone wall, a shiplap interior, or a quaint exposed brick partition, you'll find it all in our stunning collection.

Which of these redecorating tips will you be trying out first? Do you have your own ideas for a living room, bedroom, or kitchen makeover? We'd love to help you implement them through our newly updated wallpaper collection. Contact us today!