Gorgeous In Green! Treat Yourself To A Trendy Urban Jungle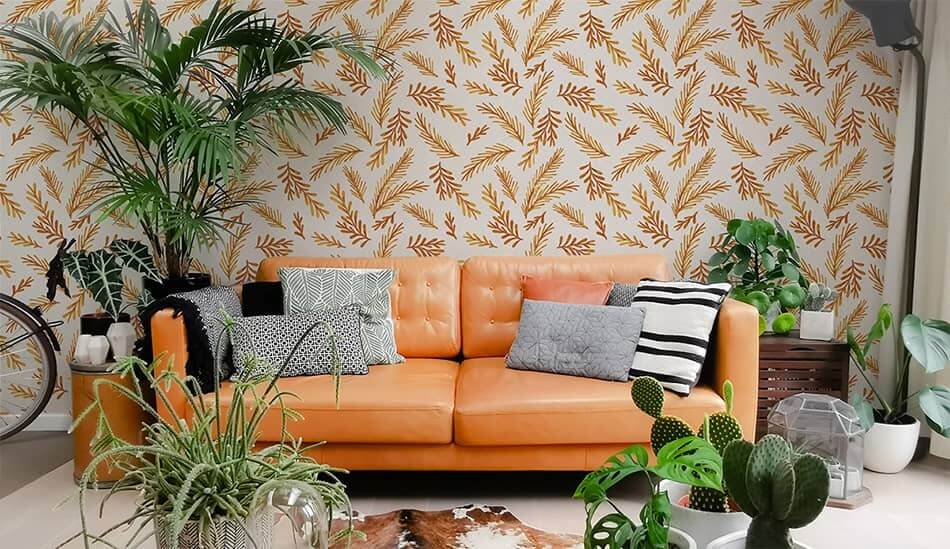 It's never a bad time to take a leaf out of nature's book. Particularly when you want a home makeover without breaking the bank, losing your deposit, or running the risk of a decor fails! Besides giving you your daily dose of nature, houseplants look good with just about anything. They don't weigh you down with rules about layouts and color pairings and can team up with trendy removable wallpapers and accents for an instant decor refresh. Let's take a walk through the ever-delightful urban jungle trend that is particularly popular this season.

Verdant, vibrant, varied!
For starters, let's look at what an urban jungle means. Most contemporary homes have a houseplant or two somewhere in the mix, say by the couch or on a bedroom window sill. But for your home to qualify as an urban jungle, you need to go all the way green. Think of houseplants as your primary design elements, and bring them together in aesthetic ways just as you would group your furniture or accents.
Urban jungles are all about bringing the outdoors in – in all their natural, unrestrained glory. Don't worry too much about order and pattern when decorating with plants. Feel free to mix up different species, celebrate their varied scales and textures, and display them in assorted pots and vases. Place multiple plants together to enhance their visual impact or liven up dead space. Use standalone specimens as 'statement' pieces, perhaps in the company of an accent chair or a display unit. Introduce little bursts of greenery in odd corners or on empty shelves and tables.
Plants will complement any aesthetic, but it's always a great idea to support them with botanical or floral-themed peel and stick wallpaper. We've got an extensive collection of botanical prints in both subtle and vibrant color palettes. Plus, our removable wallpapers bring you a rich matte finish that blends in beautifully with natural elements.

Fashion yourself a Boho paradise.
If there's one thing better than an urban jungle, it's an urban jungle that's right on trend! Though houseplants will freely lend themselves to your personal sense of style, it doesn't hurt that they fit right in with the Boho-chic aesthetic. Eclectic spaces crafted with natural finishes and free-spirited finesse are all the rage this year.
Boho-chic decor makes generous use of pattern and color while staying rooted in neutral and earth tones. Get the look by going for removable wallpaper bearing photorealistic brick or fabric textures. Make sure you choose PVC-free wallpaper that is printed with non-toxic inks and does not damage your walls or paint when removed. Complement your textured walls with whimsical wooden furniture, makramee weaves, vibrant area rugs, and plenty of potted plants!


But what if you don't have a green thumb?
Even the most gorgeous urban jungle will fall apart if you can't keep your houseplants alive. Does this mean you have to be an experienced gardener in order to decorate with greenery? Not at all! Nature is kind that way. There are plenty of hardy houseplants that can easily survive indoors with minimal maintenance on your part.
Cacti, Chinese money plants, yuccas, aloes, and spider plants will thrive even with infrequent watering and can be clubbed together to create a delightful medley of forms and proportions. If you tend to over-water, Chinese evergreens and peace lilies are excellent (and gorgeous) choices. Many indoor greens, especially ferns and orchids, can survive without direct sunlight so you can use them to brighten up practically any room in the house. Many of these beauties will also surprise you with vibrant blooms at different times of the year.
Feel free to layer these plants as per the shape and size of their leaves, the heights to which they grow, or the colors of their flowers. If you don't have enough floor space to showcase everything you'd like, don't forget that you can also hang small, low-maintenance plants from the ceiling!
Ready to transform your home into an urban jungle? If you're unsure about the first step, you can always start by creating a floral backdrop using removable wallpaper. Our newly updated PVC-free wallpaper collection features a range of delightful prints in bold colors as well as barely-there neutrals. Take your pick, and order in a sample if you're in two minds.