WandaVision Inspired Retro Decor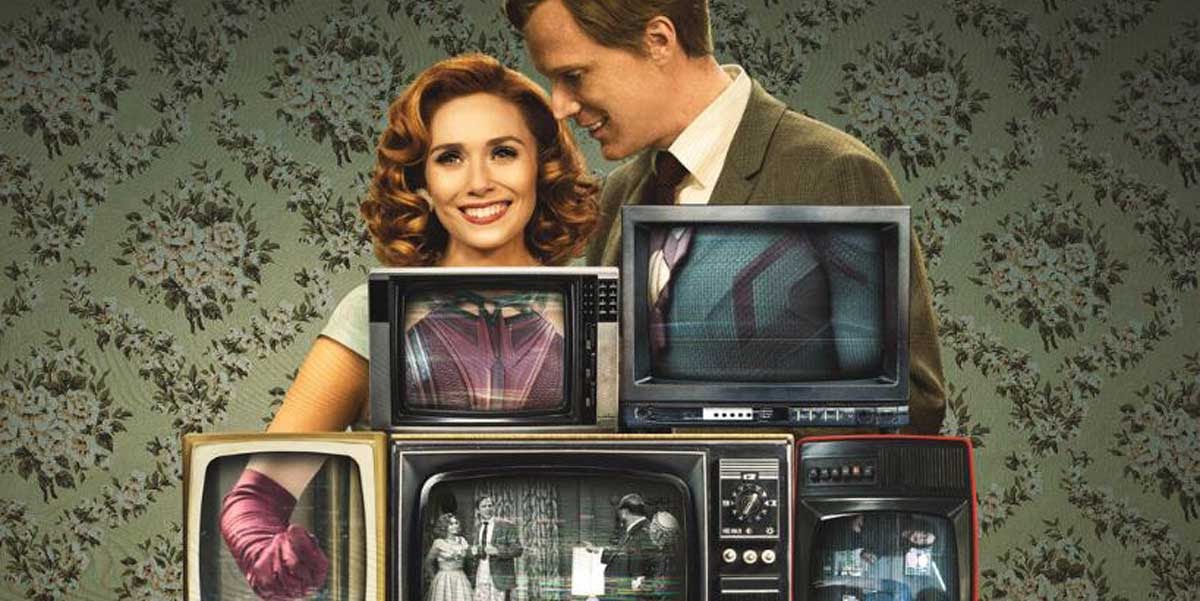 If you've grown up watching sitcoms, there's a good chance that you've caught yourself wishing you lived on the set of your favorite show. Marvel's WandaVision makes that wish come true… Well, almost.
One of the best parts of the show is its audience. Besides Avengers' fans, you'll also find home decor enthusiasts glued to it – because every episode presents an array of retro decor ideas.
Retro decor is easy to love, but not nearly as easy to implement. It has to be nostalgic, but not dated; inspired by the past but still rooted in the present. And, of course, it's got to be cool! Kudos to the set designers at WandaVision. They made these conflicting objectives look so easy to achieve.
The series makes for a delightful journey through the decades, each time period lending a unique flavor to the decor of Wanda and Vision's home. Beginning with black-and-white settings reminiscent of 'I Love Lucy', then exploring the well-loved styles of the '70s and onwards, the show reminds us every episode of the fast-changing decor trends with each decade. It truly is an incredible time capsule.
Here are some fun retro style home decor ideas to get that WandaVision look in your own home.
Retro decor ideas straight from WandaVision
Brown Textured Floral Peel and Stick Removable Wallpaper
Floral Elegance
With the onset of the 80s, there are quite a few changes to Wanda and Vision's home. Try exploring subtle retro decor ideas involving small scale floral wallpaper. Our retro botanical peel and stick wallpapers will let you replicate this perfectly. Alternate these breezy wall treatments with wooden cladding and richly patterned rugs and throws.
White Geometric Basic Peel and Stick Removable Wallpaper
Vintage Geometric Wallpaper
The first couple of episodes hark back to the black-and-white era of television. However, those interested in digging deeper will find many ways to bring home this look in more colorful ways. Vintage geometric wallpaper is one of them. Cover your living room walls in subtle, classic damasks in muted color tones, and pair these with cheerfully upholstered furniture and wooden accents for a cozy feel.
Brown Faux Wood Peel and Stick Removable Wallpaper
Simple Shiplap Walls
Create a comfy retro home full of woodsy elements with one of our peel and stick shiplap wallpapers. Acting as simple backdrops for your rooms, these walls create the perfect setting for Mid-Century furniture and metallic accents interspersed with houseplants. It's a great way to bring structure to living and dining areas, while also allowing for homey touches like family photos.
Red Brick Peel and Stick Removable Wallpaper
Brick, Stone and Terracotta
With episode 3, a palette of warm earthy red-brown elements, like brick and stone clad walls and terracotta steps, takes over the WandaVision set. Our textured peel and stick wallpaper collection will let you create any of these backdrops in a jiffy. Cool blue or lime green furniture and vintage accents will serve as the perfect finishing touch to this retro decor idea.
Green and Grey Vertical Peel and Stick Removable Wallpaper
Bright Kitchens
As we cruise through the 70s, there's plenty more to love about the WandaVision set. Contrast the earthy tones in your living room with a vibrant yellow and green palette for your kitchen walls. Explore wallpaper patterns like stripes and plaids, and let wooden cabinetry act as a grounding element for the setting.
WandaVision does a great job of celebrating retro style home decor without getting too textbook in its approach. The result, as we can all see, is gorgeous. And if it's gorgeous, why not take these retro styles and modify them to fit your own home? Agatha's words describe it best: "I did not break your rules. They simply bent to my power."