Unveiling Our 2020 New Collection!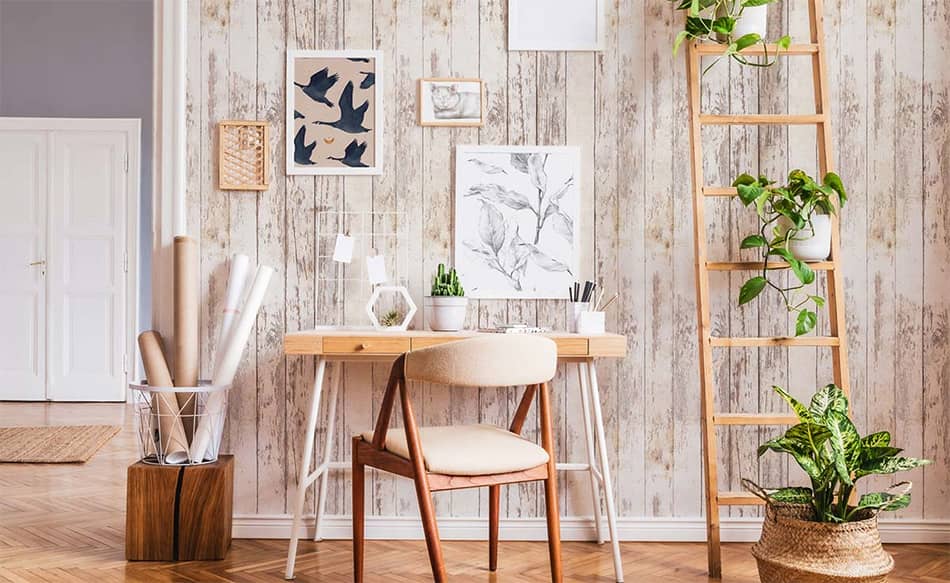 What do perky animal prints and subtle textures have in common? They're both right on-trend this year. And they're the highlights of our new removable wallpaper collection. That's right, 2020 design trends are all about proving that opposites attract – even in the world of home decor. Quiet minimalism has found a playful edge, Japanese and Nordic aesthetics have paired up, and the rules of texture and color coordination have all been bent just enough to give contemporary homes an irresistible allure.
Confused? Don't worry, we've made it easy for you to start implementing these design trends like a pro. Meet the new collection from Walls By Me and get innovative with our fresh and fabulous peel and stick wallpapers!
Invite animal prints to your formal spaces
We may love cute kitten prints to distraction, but to have them adorn your living room walls is a whole other ballgame. Luckily, our new collection offers a convenient middle ground. Find a range of versatile animal prints that won't look out of place in living rooms, entryways or home offices. The key? Subtle, near-monochrome palettes that retreat into the background, allowing you to flaunt animal prints alongside sophisticated modern furniture and minimalistic accents.
Another way to introduce animal prints to formal spaces is through reinterpreted designs that mix simple, minimal geometry with small doses of playfulness. Try covering your living room or study walls with cutesy paw prints in a robust black-and-white scheme. It'll add a relaxed, informal vibe without taking away from the general sense of order that you need in such spaces. Our self-adhesive wallpapers will not damage your walls or paint when removed, so feel free to reposition them as often as you like until you find the perfect composition!

Ace the Japandi look
The world's going gaga about the Japandi design trend. But implementing it isn't as easy as it sounds. How d'you even introduce intense colors or woodsy textures into a minimalistic setting, without turning the space into an uncoordinated mess? Our latest range of self-adhesive wallpapers will show you how. We've paired whimsical bluebirds with near-neutral backdrops, and rendered bold botanical prints in light grey hues to get you the perfect blend of quiet and charismatic. We've also reinterpreted popular geometric prints, coloring them in vivid blue-green tones while keeping them in-sync with sleek Japanese aesthetics.
Try out these designs as feature walls in your living space. They can also cover an entire room without overwhelming the senses. For an added flourish, pair some of these with our latest distressed wood and shiplap textures. Our high-quality peel and stick wallpaper , ensuring a great finish that enriches your decor. Plus, you're free to change things as often as you like until you get what you want – our removable wallpaper will not damage your walls or paint when removed.

Level up your texture game
Textured wallpapers are popular, but they don't always hit the mark in terms of quality and finish. But you're at no such risk with WallsByMe! Our high-quality fabric wallpapers are perfect for carrying visual textures of brick, stone, and wood. They'll never have that 'vinyl' look that can ruin the best compositions. They'll be printed with non-toxic inks so you can enjoy a PVC-free, VOC-free and lead-free home. And of course, installing or repositioning them is a piece of cake!
In our latest new collection, we've focused on chic faux-brick walls and the distressed wood effect. You'll find ever-so-subtle visual prints that mimic roughly painted wooden walls. You'll be treated to gorgeous exposed brick textures in vivid as well as subtle colors. And you'll have your pick of aged wood and shiplap wallpapers featuring exquisite combinations of grey and blue-green tones. Not only are these excellent for creating a Boho-chic look (also on trend this year), they can also fit in with popular Japandi colors and patterns!
It's early in the year yet, so bring your home up to speed on the latest decor trends! Check out our latest new peel and stick wallpaper range. If you're confused between two or more designs, order in a sample and figure out what works best in your room.