What Are The Décor Trends For 2020?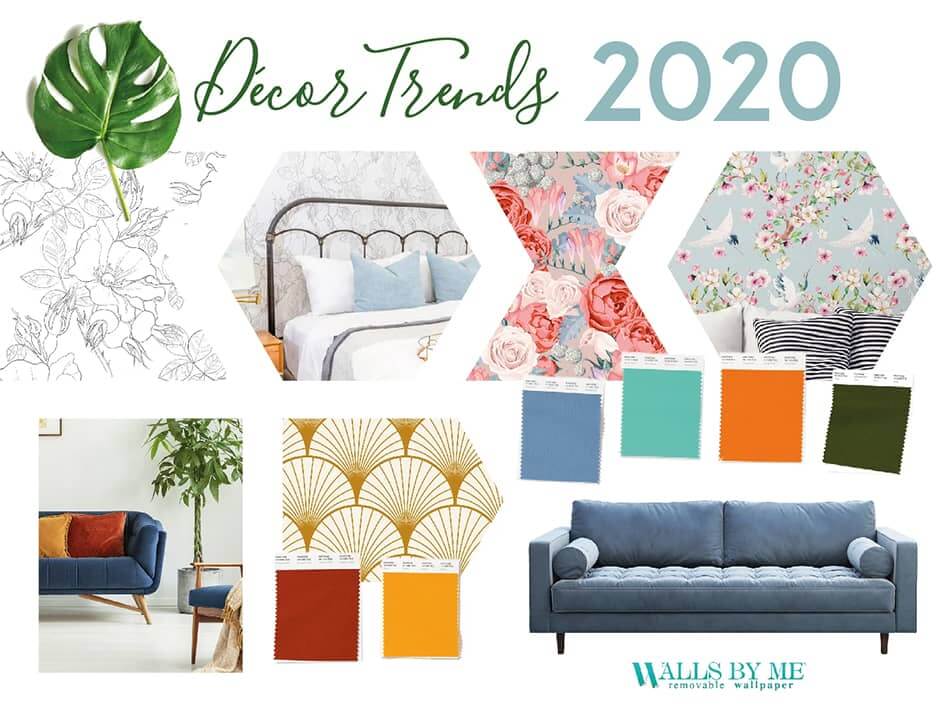 With 2020 right around the corner, it's time to give your home yet another makeover. Luckily, this time around it's easier than ever to update your décor. You see, 2020 décor trends are all about creating a lovely 'lived-in' look that you can immediately associate with home. Having said that, you'd need to keep a few things in mind to stay on the right side of stylish. In this post, we've brought you some of the most popular trends that we'll be seeing in the New Year, along with some handy 2020 décor tips on how to incorporate them into your home.
Made-to-order minimalism:
Minimalism always manages to stand the test of time. It does get a makeover every few years, though, and 2020 is ushering in its latest refresh. Think of it as minimalism with a bit of personality. The clean lines and uncluttered layouts stay put, but they also make room for a little color, texture or pattern.
Your personalized take on minimalism can go many routes in 2020. Add a monochrome print or pattern to a white-based Nordic setting, or stray into warmer shades of neutral to give your minimalist space a more welcoming feel. Our removable wallpaper collection has a variety of designs featuring stylish and versatile geometric patterns that will add a playful element to your living space without taking away from its clutter-free look. Plus, these peel and stick wallpapers are made of fabric, which means they'll ensure the rich, elegant finish such a décor would need.

Japandi:
Crave the minimalist look but can't give up your love of all things vibrant? Meet Japandi, an enticing blend of Japanese and Scandinavian décor that's faring very well on the list of 2020 décor trends. Japandi manages to do the impossible – keep your home smart, clutter-free and minimal, while also dipping it in color, texture and character.
To update your décor to the Japandi look, go for soft color palettes and accent them with richer, deeper hues. One of the key 2020 décor tips from design experts involves pairing muted pink, grey and mint wall treatments with furnishings and accents in teal, rust or emerald. Our peel and stick wallpaper collection have Japanese-inspired designs that'll give your décor a great start. Choose our Asian prints featuring flowers, vines and bird motifs in soft, surreal shades and a lovely textured finish. These will keep your décor adequately pared-back, while also bringing in a distinctly Japanese vibe.
Boho-chic:
What's not to love about richly textured spaces that are beholden to no rules? In 2020, expect to see a lot more of the much-loved boho-chic aesthetic. Natural textures as far as the eye can see, organic materials, soft colors, and a wide berth as far as design styles and preferences are concerned. Boho-chic allows you to bring everything that you love under one roof, and craft layered, meaningful spaces that you'd love to call home.
While eclectic by definition involves a mix of elements, you do need a sense of order in your décor. Stop by our removable wallpaper collection and pick out any of our brick or fabric textures to instantly update your décor to boho-chic. Neutral colors like tan, buff, and other light neutral shades work best in this aesthetic. Complete the look with wooden furniture and fittings, rich weaves, tactile accents, and maybe a hint of greenery.
Glamor with a retro reference:
Boho-chic isn't the only kind of eclectic that we're likely to see in 2020. There's another richer look that's peppered with retro charm, Hollywood-esque glamor, and a fun, quirky vibe that's decidedly contemporary. Think slender armchairs that take you back a century, bold copper and brass accents, vivid colors like navy, and dark wooden finishes to tie everything together.
This sassy, new-age look can be a bit tricky to achieve, but our removable wallpaper collection will get you off to the right start. Browse through our Art Deco themed geometric patterns rendered in gold and deep earth tones. These PVC-free wallpapers are easy to apply and will give you just the right finish. Plus, they're printed with non-toxic inks to create a perfectly safe environment for you and your family.
Vivid botanicals:
Love houseplants? We'll close our list of 2020 décor tips with some ideas on using indoor greenery as the foundation of your interior design theme. First, pick out a vibrant botanical print from our peel and stick wallpaper collection and use it to create a feature wall in your living room or bedroom. Next, use your favorite houseplants to complement your new feature wall and update your décor in no time!
One major perk of botanical-themed décor is that it'll allow you to carry the same look into spring as well. We've kept this in mind while curating our self-adhesive wallpaper selection, so you'll find designs in a variety of spring-friendly shades like muted pink, pale mint, and coral, as well as vibrant yellows and greens that'll keep the winter blues at bay.
Here's hoping that you're at least a little familiar with 2020 décor trends by now. Bring them home with our gorgeous removable wallpaper collection that happens to be incredibly easy to apply. Plus, our high-quality wallpapers will not damage your paint or walls when removed, so you can update your décor as many times as you like!