Warm and Stylish Scandinavian Living Rooms to Look At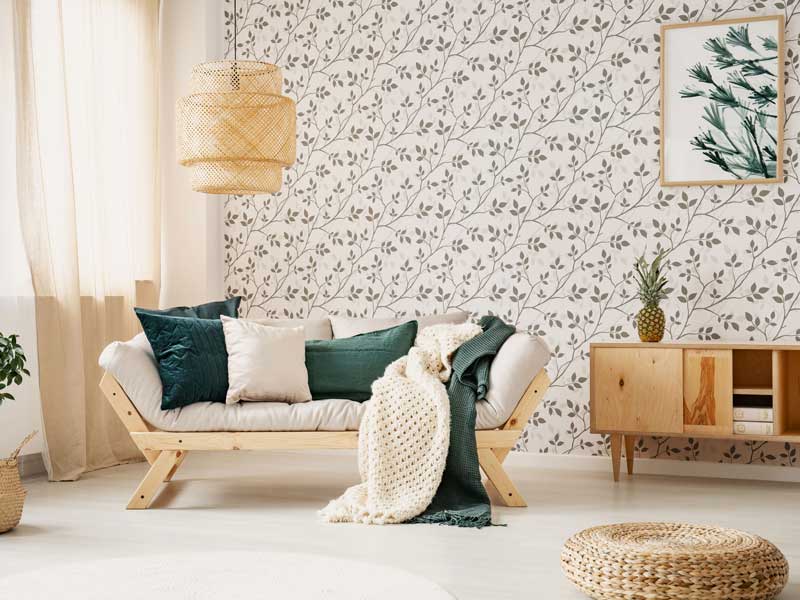 It started out as a trend, and stayed put as one of the most popular design styles to date. Scandinavian decor has been reigning over our homes and hearts for quite some time now, and always manages to reinvent itself to suit changing preferences. Here we are today, with the latest scoop on contemporary Scandinavian living room designs to get you ready for some minimalistic Nordic magic.
What makes Scandi decor so versatile is its foundation in neutral tones and simple, functional forms. When form follows function and materials stay honest to their purpose, visual outcomes also fall into place. The result? Delightful, uncluttered spaces defined by clean lines, structured palettes, and plenty of natural light for a naturally upbeat vibe.
Read on to discover easy ways to ace the Scandi look in your living room.
8 ways to introduce Scandinavian interior design to your living room
1. Love neutral colors? This is your chance to celebrate them
The clean, clutter free look of a minimalist Scandinavian living room depends in a big way on the color scheme. This is a decor style where you will mostly find white, off white, beige and gray treatments running the show. A few dramatic black elements here and there will help you anchor the space, and generous doses of indoor greenery will keep things breezy and comfy.
2. Got Mid-Century Modern furniture? Flaunt it!
Mid-Century modern furniture, with its sleek, tapered forms and functional elegance, works like a dream in minimalist Scandinavian living rooms. Clear the area around your furniture, and give it a nice backdrop in the form of subtle neutral wallpaper. This is a great approach for homes with open plan living and dining spaces, as it keeps them organized and clutter-free.
3. Use storage units as decor solutions
The very basis of Scandinavian decor lies in "form follows function." Instead of treating storage units and decorative elements as two different things, think of ways to show off your shelves and bookcases. Metal storage units and furniture lend themselves quite well to Scandinavian living room designs. You can use metallic or wireframe accent furniture or wall art to reinforce the look.
4. Cozy fabrics for warmth
Let's face it: all that austere minimalism can take the warmth out of your home. Avoid it by using soft, comfortable textiles. Plush area rugs, throws and woven accents will help you craft a warm Scandinavian living room that is functional yet welcoming. Remember to stick to the neutral color palette as far as possible. Luxurious white rugs are our favorites, but you can also try simple geometric patterns. If you wish to extend the idea further, you can also try faux fabric textured wallpaper.
5. Get a little dramatic with black and white stripes
Bold black and white stripes are great at celebrating the Nordic approach to functionality while also bringing in character and sophistication. You can use a striped area rug to break the monotony of your Scandinavian living room design. Or you can step it up a notch by putting up striped peel and stick wallpaper in your living room. When it comes to striped wallpaper, you also have the opportunity to make the space appear wider or taller, depending on the direction of the stripes.
6. Plant elegance with indoor greens
Large houseplants are a common sight in Scandinavian living rooms, and it's easy to see why. They offer the perfect complement to clean lines, minimal colors and functional layouts. For a well-balanced Scandi living room, introduce tall or broad leafed plants to the corners or around the furniture arrangements. Indoor plants also give you the opportunity to further detail your setting using interesting choices of planters and vases.
7. Wooden slats for that comfy cabin look
Classic Scandinavian spaces tend to include light, breezy layouts and generous doses of wood in the walls and ceilings. If you don't have wooden beams or walls to show off, you can easily get the look through faux wood wallpaper. We recommend light wooden prints with vertically arranged planks for an authentic look. Use plenty of white elements for contrast, and houseplants to complete the look.
8. And what about color?
Is there no room for pops of color in a minimalist Scandinavian living room? Well, there is, and it can really help you style things up! We love the combination of pastel blue and neutral palettes. Without interfering with the overall color scheme, a hint of blue here and there will make your living room appear refreshing and peaceful. The coolness of blue beautifully balances with the warmth of wooden furniture and fabric accents.
Ready to get started with your Scandinavian living room design? Hop on over to our delightful wallpaper collection for PVC-free, easy-to-install choices to get your home makeover off to the perfect start!